1:40 PM -- The technological barriers to providing 3DTV to the masses are mostly solved, just in time for the World Cup. (See GOOOOAAAALLLL!!!!!!)

But what about those glasses?

I'd never thought about 3D glasses needing to be standardized, but apparently that's what the Consumer Electronics Association (CEA) is working on. For now, every TV manufacturer is making its own sets of glasses.

XpanD, the company that's been providing 3D glasses to movie theaters, sees this as a chance to get into the home market.

I hadn't heard of XpanD until yesterday, when David Chechelashvili, head of gaming and retail, spoke on a panel at the Connections conference, put on by analyst firm Parks Associates . The topic was 3DTV, of course.

Chechelashvili figures that if glasses could be bought retail, it could only help the 3D market. Imagine having friends over to watch the 3D World Cup, for instance -- why not make it easy to procure a couple dozen pairs of glasses, while also letting some people bring their own?

By the end of summer, XpanD expects to start selling glasses that work with all the TV manufacturers' 3D sets. They'll be available at major retailers. The timing will be a few months ahead of the CEA standard, so XpanD expects to have the market to itself for a short time.

That's all nice, but there's a more obvious problem than standards here: getting people to wear these things. Another panel member -- Ajay Luthra, senior director of advanced technology at Motorola Inc. (NYSE: MOT) -- said, more than once, that his wife hates the glasses and won't even let him buy a 3DTV set.

"I was only half joking and half serious. She would not be caught dead in these glasses," Luthra said. "I don't see a solution in the next five to six years. There are other problems that might get solved, like world hunger."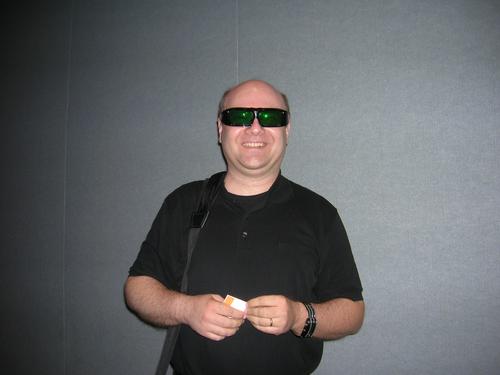 — Craig Matsumoto, West Coast Editor, Light Reading