RGB's TV Everywhere Offer: A Video God Box
RGB Networks Inc.
is aiming to repurpose video for delivery to televisions, as well as mobile handsets, PCs, and an array of other IP-connected devices, with a new product: the Video Multiprocessing Gateway (VMG).
The VMG takes in a video feed and replicates multiple versions for different devices, handling several functions (encoding, transcoding, ad insertion, customized logos/overlays, audio processing, and encryption) in real time as it passes through the gateway. (See
RGB Eases Video Delivery
.)
By cramming all of those modules into one device, the idea is to simplify the stream preparation process, rather than requiring the operator to handle everything using a
wiry nest
of discrete encoders and other boxes, says Ramin Farassat, RGB's VP of product marketing.
RGB isn't releasing pricing on the box, but the company claims that its approach saves an operator as much as 40 percent if they instead bought and operated separate devices to handle the suite of available functions. [Ed. note: So it's expensive.]
But all of those elements don't necessarily have to be active or purchased up front. For example, preparing a stream for a cellphone might not need statmuxing, but will require transcoding and the insertion of ads. The operator "can pick and choose specifically what [it] needs in that flow as the stream is going through the box," Farassat explains.
The general multi-screen concept should sound familiar by now as digital vendors gear up to help MSOs and telcos prepare their "TV Everywhere" strategies. (See
Can Telcos Rule TV Everywhere?
,
TV Everywhere Spreads
,
Cablecos Struggle to Reach Consensus on TV Everywhere
, and
Time Warner, Comcast Team Up for TV Everywhere
.)
BigBand Networks Inc.
(Nasdaq: BBND)'s recently introduced Converged Video Exchange (CVEx) is probably the closest competitor to RGB's new platform, but several other cable suppliers, including
Motorola Inc.
(NYSE: MOT),
Harmonic Inc.
(Nasdaq: HLIT),
Cisco Systems Inc.
(Nasdaq: CSCO),
SeaChange International Inc.
(Nasdaq: SEAC),
Tandberg Television
, and
Concurrent Computer Corp.
(Nasdaq: CCUR), have all made updates to their video equipment and software to prepare streams for multiple screens.
Arris Group Inc.
(Nasdaq: ARRS) is thinking along similar lines with yesterday's acquisition encoding specialist
EGT Inc.
and its recently cemented partnership with media switch maker
Verivue Inc.
. (See
BigBand Pushes IP Video Convergence
,
Concurrent Upgrades for Mobile & PC VoD
,
SeaChange to Tout 3-Screens at IBC
,
Tandberg Takes One-Stream, Any-Screen Approach
,
Arris Pumps Up Video With Dolce's Verivue
, and
Arris Gets EGT for a Song
.)
RGB expects the fourth quarter to be a big trial period, but two cable sites -- one in the U.S. and one in Canada -- already have the VMG deployed for grooming and ad insertion. Next, the company hopes to score trails for transcoding and some of the box's other functions.
RGB claims the VMG can support 144 HD channels or 400 standard-def channels, or statmuxing of more than 1,000 channels, or ad insertion for more than 1,000 channels. It's more likely, however, that an operator would use the gateway for a mix of those functions.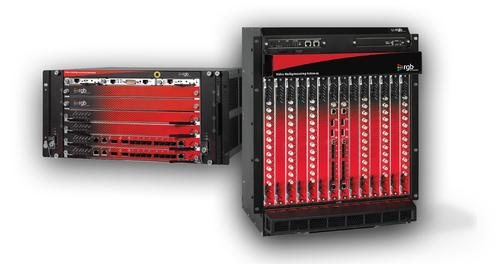 RGB complements its traditional reliance on
Field Programmable Gate Array (FPGA)
s with the addition of
Application-Specific Integrated Circuit (ASIC)
s and multi-core processors. The firm is still using FPGAs for video and audio processing and ad insertion, but adding in ASICs to deal with video codecs and other algorithmic changes to the video, and multi-core processors for the routing and management of the video streams. The chip mix will vary on the configuration of the VMG, but it will be heavily weighted with FPGAs and ASICs if the operator intends to use the box for lots of transcoding and IP video applications, Farassat says.
U.S. cable remains RGB's bread and butter, but the company is pursuing telco TV deals and extending its reach internationally as it looks to go public next fall. (See
RGB Remakes Itself for Global Growth
.)
— Jeff Baumgartner, Site Editor,
Cable Digital News
---
Interested in learning more on this topic? Then come to
TelcoTV 2009
, the telecom industry's premier event for the exploration of a comprehensive entertainment convergence strategy, to be staged in
Orlando, Fla.
,
November 10-12
. For more information, or to register, click
here
.
---
PARTNER PERSPECTIVES
- content from our sponsors