Vecima Ready to Ride With Comcast's 'Cavalry'?

Comment (0)
Following some earlier chip-related delays,
Vecima Networks Inc.
(Toronto: VCM) says it's about ready to start volume shipping of a new digital-to-analog cable gateway tailored for apartment buildings and other so-called multiple dwelling units (MDUs).
Large-scale deployments of that device, dubbed the Terrace A, are expected to begin "over the next several weeks by a major cable operator," Vecima VP of corporate strategy Sumit Kumar tells
Cable Digital News
.
Vecima has not disclosed the customer, but it's widely known that
Comcast Corp.
(Nasdaq: CMCSA, CMCSK) is eager to use the product for "Project Cavalry," an all-digital initiative that allows the MSO to reclaim valuable analog spectrum and reuse it for larger HDTV and video-on-demand lineups and for speedier
Docsis 3.0
services. Comcast expects to have about 33 percent of the transition completed by the end of this year. (See
Comcast's $1B Bandwidth Plan
,
Comcast Seeds Digital Shift With Free Boxes
, and
Comcast 'Cavalry' Rides Into NoCal
.) In the early going, Comcast has leaned heavily on
Digital Terminal Adapter (DTA)
devices, which are simple digital-to-analog converter boxes that connect directly to the customer's analog television. It's expected that Comcast will use devices such as the Terrace A in MDU environments rather than deploying individual DTAs to every unit in a given apartment building. As designed, the Terrace A, which will sell for $10,000 to $12,000 per unit, offers MSOs a central point of management and won't require a bunch of expensive installation truckrolls. The device, which is capable of decoding 82 digital cable channels, also has three local analog inputs for MDU-run security camera systems and video-based message boards.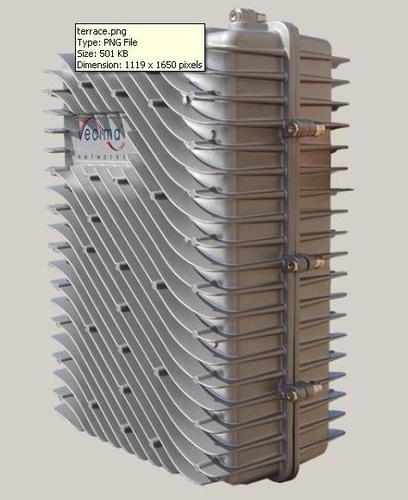 Another big difference is that the Terrace supports the
CableCARD
, a removable security module that authorizes subscribers for digital video programming, including premium networks such as HBO, Showtime, and Starz. In order to keep costs in the range of $35 per unit, DTAs don't have CableCARD interfaces, though the DTAs Comcast is fielding are capable of activating a fixed-key content protection scheme called "Privacy Mode." (See
FCC Approves DTAs From Moto, Cisco, Thomson & Pace
and
Comcast's DTAs: Security Optional
.)
The Terrace A is capable of housing up to six multi-stream CableCARDs. According to Vecima VP of marketing and business development Richard Blenkinsop, a typical deployment scenario would have four of the modules authorizing the MSO's all-digital simulcast lineup, with another delivering up to six premium network streams. The sixth slot is used to house a backup in case one of the other five CableCARDs should fail.
Blenkinsop says Terrace A is agnostic in this sense because it can use CableCARDs from a variety of suppliers, including
Motorola Inc.
(NYSE: MOT),
Cisco Systems Inc.
(Nasdaq: CSCO),
NDS Ltd.
, and even
Evolution Broadband LLC
, which recently obtained
CableLabs
approval on a module that runs the
Conax AS
conditional access system. (See
CableLabs Blesses Evolution's CableCARD
.)
Back on track
Although MSOs like Comcast have been eager to use Terrace, its initial entry was delayed because of some software issues linked to a chipset supplied by
BroadLogic Network Technologies Inc.
, a startup that counts backers such as
Comcast Interactive Capital
,
Time Warner Investments
, and Advance/Newhouse. (See
MSO Order Delays Hit Vecima
and
BroadLogic Collects More Cable Cred
.)
"To a certain extent, we were on the bleeding edge with that chipset," Kumar says. "The good thing is that's behind us now."
And that may serve as good news for other vendors that intend to use the chipset for similar aims. Cisco, for example, is using BroadLogic's TeraPix silicon to power the DSAM, a digital-to-analog MDU gateway that will run Cisco's own PowerKEY conditional access system. (See
Cisco Doubles Up for Cable
.)
— Jeff Baumgartner, Site Editor,
Cable Digital News
---
Interested in learning more on this topic? Then come to
TelcoTV 2009
, the telecom industry's premier event for the exploration of a comprehensive entertainment convergence strategy, to be staged in
Orlando, Fla.
,
November 10-12
. For more information, or to register, click
here
.
---
EDUCATIONAL RESOURCES

PARTNER PERSPECTIVES
- content from our sponsors
GUEST PERSPECTIVES
- curated contributions