I work from a home office, but my phone number is listed as a business phone. Since April, when I first came on board here, this has led to at least two phone solicitations per day about one service or another that will boost "my" business.

All of those callers have been sorely disappointed to hear that I'm merely an editor working in a satellite office 2,000 miles away from the mother ship in New York. So, no, I do not need a system to handle credit card transactions, but I do appreciate the call.

Business-related junk mail is also starting to find its way into my mail box. A pitch from the National Pen Company caught my attention.

They are promoting customizable Squiggle Pens, and even sent me a sample with the Light Reading name emblazoned alongside my home/work address and business phone number. How nice of them.

"Hand out the new Squiggle Pen today; its polished chrome trim, squiggle shaped clip that everyone's crazy about and dynamic graphics attract more attention to Light Reading," the pitch goes on.

A semi-tailored graphic, along with a hollow promise, also was worth a chuckle.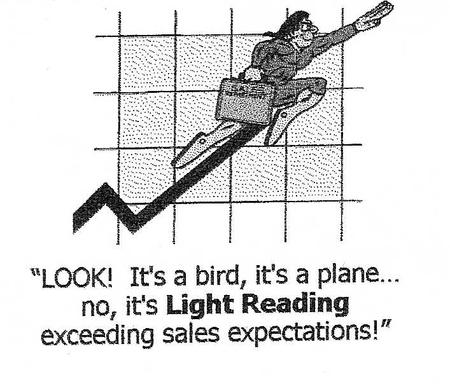 Note to self: Alert sales department posthaste to this incredible opportunity.

Of course, if this were really true, every vendor on every show floor should be knocking the ball out of the park. RespondTV and Com21 handed me some nifty logo pens before they closed shop, so I guess it takes a bit more than that to pave the path to success.

But thanks for the pen, National Pen Company. The least I can do is provide you with some free pub. I will be sure to take copious notes with your pen at the next cable event.

— Jeff Baumgartner, Site Editor, Cable Digital News