9:00 AM -- From The Philter's Internet Video file, Akimbo today announced that you can now get Internet video on -- wait for it -- your PC! Seriously.

Okay, there's a little more to it than that. Akimbo's one of the few firms that took Internet video to the living room first, then started working on ways to reach people at their desks, home offices, etc. The company isn't saying when (or if) it will go into mobile video, but that's the next logical step in the direction it's taking as a company that's a distributor of on-demand video entertainment.

Here are the highlights of the announcement, from the company's publicists:


Akimbo™ Systems today announced that its Internet video-on-demand service will be available next week in beta release for Windows XP and Vista-based PCs… The Akimbo Service available on Windows PCs lets consumers bypass the monthly Akimbo subscription fee and instead pay per video download to enjoy their choice of programming… Akimbo used the Sonic Solutions (NASDAQ:SNIC) Roxio Venue™, a rich media management application, to make the Akimbo Service available on PCs. Users with high-speed broadband connections can use Roxio Venue to select, manage and, taking advantage of the progressive download feature, even begin to watch videos before the download is complete. Later this year, consumers will also be able to securely burn Akimbo videos onto recordable DVDs that play on standard DVD players as well as PCs, which will be enabled using Sonic DVD On Demand technology.

Over the past three years Akimbo has charted new territory in the world of home video. Akimbo was the first company to unite hundreds of video providers with consumer electronics, cable and telecommunications firms to make Internet VOD a reality for consumers. The Akimbo Service has helped video providers of all sizes identify previously untapped audiences and create lucrative new revenue streams. The Akimbo collection spans 15,000 mainstream and specialty titles for viewing on the TV or the PC.


Here's what the new player looks like, in case you run into it at the post office: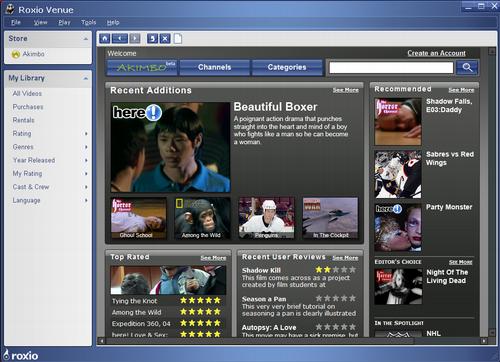 — Phil Harvey, Person of the Year, Light Reading