Telecom Global Warming
LONDON – Feeling bored with telecom? Like there are no new ideas? Like investment opportunities are dead?
Think again.
As the old Wall Street saying goes, "Buy at the sound of cannons and sell at the sount of trumpets." Much of the financial community around the world – and most certainly in New York – still hears cannons. There is a long-running, deep-seated resentment of the telecom sector, which brings back bad memories of the collapse of WorldCon and the share-price implosions at once "blue chip" companies such as and
If you haven't already: Get over it. Many years after triple-digit share price crashes in the optical networking sector, the telecommunications market is staging a solid recovery. (See
2004 Top Ten: Signs of Recovery
.)
Crazy, you say? Not really, by many measures – including the most basic measure of capital spending, which has now logged two consecutive years of global growth. (See
Infonetics Reports on Asia Capex
,
Report: Carrier Capex to Grow to $61B
,
VOIP Investments Growing
, and
BellSouth Fans Fiber Flames
.)
Want proof? Check out the share price gains of some global telecom providers, such as
Videsh Sanchar Nigam Ltd. (VSNL)
(NYSE: VSL) or
Crown Castle International Corp.
(NYSE: CCI), which posted generous gains over a year or so. Or take a gander at
NII Holdings Inc.
(Nasdaq: NIHD):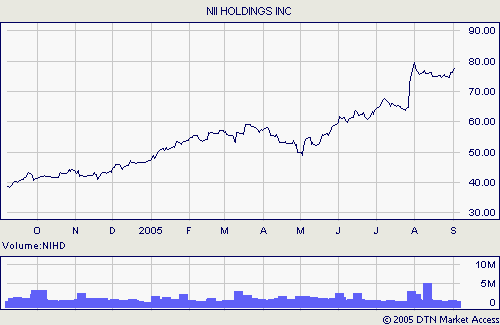 Too exotic for you? Well, then, consider "boring" North American IOC
Alltel Corp.
(NYSE: AT), which jumped 20 percent in 12 months -- and pays a 2.4% dividend, to boot. And if you've been feeling brave enough to dabble in Russia, there's always
JSC Vimpel-Communications (VimpelCom)
(NYSE: VIP) or . (See
Eurobites: Russian Around
.)
These companies have all posted at least double-digit returns in their share prices over the past 12 months. In some cases, it's been even better – NII has doubled, returning over 100 percent.
Considering the global nature of these share-price mini-booms, the telecom recovery is by no means simple, or easily pigeonholed. It comes in the form of a broad mosaic, across many different geographies and market niches: Next-generation wireless, metro optical, and fiber access networks are taking hold in many different corners of the globe.
Certainly, the most heat in the markets is in wireless – especially in high-growth, developing markets like Russia and Asia. But at the same time, old-world Europe is starting to lead in many technology areas, including Ethernet, optical, and access gear.
Take a look how appears to be dictating the technology message for global incumbents. If BT lives up to its promises, it will be seen as a global leader in IP convergence. (See
BT's 21CN Deals: Booty or Bloody?
,
BT Let Off the Hook
, and
BT's Bross: Ethernet Will Deliver
.) Broadband investments are reaching respectable levels in continental Europe, and they're even starting to show signs of producing investment returns. (See
Eurobites: Pump Up the Broadband
and
Eurobites: Access All Areas
.) Many other incumbent European carriers are aggressively deploying important new Ethernet services, helping to cement that technology's role as a global standard. (See
FT Heralds Ethernet Breakthrough
.)
Europe has become the convenient pivot-point between the bubble-ravaged North American and the volatile, explosive Asian markets
What may be perplexing many North Americans is that they appear to be falling behind the times, as places like Asia and the "new" Europe are generating more heat (see
Broadband Booms in New EU
). And, as will be examined here this week at
Light Reading
's conference and exposition,
The Future of Telecom – Europe 2005
, large incumbents in old Europe are starting to edge out their North American counterparts in the packet revolution.
In fact, the old country, in many ways, has become the new frontier, where some of the most cutting-edge technology is starting to be deployed. Has North America lost its technology edge? It's starting to look that way. As the United States slips backwards in terms of broadband access, European and Asian countries are out in front of the pack (see
We're #16!
).
Here at
FOTE
, Europe's most important telecom technology architects, including British Telecom's Mick Reeve, 's Sten Nordell, and the
The London Internet Exchange Ltd. (LINX)
's John Souter will advise on the progress of IP architecture. Dr. James Dodd, of
Anthem Venture Partners
and
ETT
, will fill us in on the state of European telecom finance (see
Light Reading to Hit London
).
Light Reading
will report back throughout the week on what the European technology experts have to offer.
Telecom global warming: It's happening, so be careful. That telecom glacier may be melting below your feet.
— R. Scott Raynovich, US Editor,
Light Reading