Technicolor (Euronext Paris: TCH; NYSE: TCH) has two multimedia gateways under development outfitted with Intel Corp. (Nasdaq: INTC) processors, network attached storage (NAS), and real-time transcoders that will let one incoming video source be turned into many that can be displayed by PCs, tablets and smart phones linked to the home network.

Technicolor hasn't revealed much detail about those hybrid gateways, which support both IP- and RF-based video, but did offer a sneak peek at last week's International CES in Las Vegas. One is set to launch this summer, with a fancier next-gen box slated for a 2012 release.

The first box, called MediaEncore, uses an Intel Corp. (Nasdaq: INTC) CE4200 chip outfitted with the transcoding feature (Broadcom Corp. (Nasdaq: BRCM)'s new set-top/gateway chips have that capability too). It also bakes in a Digital Living Network Alliance (DLNA) client and server, Celeno Communications 's video-optimized Wi-Fi chip, Docsis 3.0, and four removable NAS slots -- a good place to store downloaded video. And there's an option for tru2way for MSOs that use the CableLabs -specified middleware/headend platform. (See Technicolor Bakes in SeaChange's Tru2way Stack and Technicolor, Celeno Do Video-over-WiFi.)

Technicolor expects that box to launch this summer, company CTO Ben Crosby said.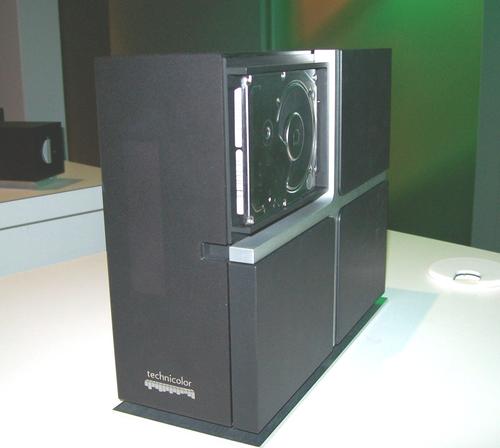 The 2012 version will also sport four NAS drives, but take on this form factor: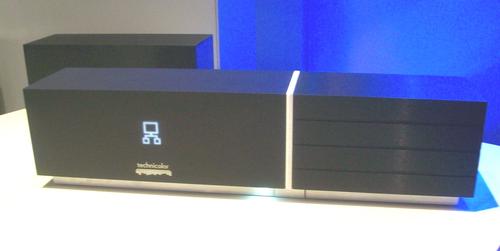 Technicolor's gateway strategy is coming into play as MSOs around the globe get ready to test and deploy hybrid IP/QAM boxes. Among operators, Liberty Global Inc. (Nasdaq: LBTY) is also gearing up its own strategy for Europe, but the device it's going with will be of the "headless" variety, meaning it will route video and other content to set-tops on the home network that handle the actual video rendering. (See Liberty Global Reveals IP Gateway Partners.)

Technicolor's play is more akin to the Web-capable, Pace plc -made "Parker" box Comcast Corp. (Nasdaq: CMCSA, CMCSK) is experimenting with in Augusta, Ga. (See What's Inside Comcast's Parker Box?, Comcast Tests Broadband-Fed Xcalibur Service and Rumor: Is This Comcast's 'Parker' Box?)

"U.S. MSOs will jump first on this type of [multimedia gateway] product," Crosby said of Technicolor's new wares.

However, the design of both boxes doesn't seem to jibe with the look that Comcast is apparently specifying for its coming line of "Xfinity" boxes. Crosby doesn't think that's a limiting factor for Technicolor, which could easily remove its branding in favor of Comcast's. (See Comcast's 'Xfinity' Brand to Take Over the House .)

"Not a single customer who's seen this form factor hasn't liked it," he said.

Tablet fever
Although gateways are expected to serve as the center point for converged cable service, iPads and other tablets will be among the devices feeding off them, sometimes serving as a more-than-capable second screen in the home.

On that front, Technicolor has developed MediaNavi, a multi-screen interface that can run on tablets powered by Android, iOS and Windows 7. (See Technicolor Launches MediaNavi and CES 2011: The Daily Tablet.)

At the show, MediaNavi was being used as an advanced IPG and remote control similar to what Comcast and Time Warner Cable Inc. (NYSE: TWC) have developed on their own. Technicolor plans to pitch MediaNavi to service providers so they can develop their own customized interfaces for tablets, said SVP Greg Gudorf, the former CEO of Digeo Inc. (See Comcast to Stream TV to iPads, Android Tablets and Arris Digs Digeo .)

The platform, he said, can search for video-on-demand titles from the operator as well as from over-the-top sources such as Netflix Inc. (Nasdaq: NFLX). However, MediaNavi also supports a business rules engine that, for example, would give preference to a VoD title that was available directly from the service provider.

TalkTalk , a U.K.-based broadband provider, is already on board for a trial. Gudorf expects service providers to start MediaNavi deployments later this year.

— Jeff Baumgartner, Site Editor, Light Reading Cable