Should investors be ready to jump back into optical networking stocks? In the current market environment, there aren't many equipment stocks to get excited about. But if you're thinking about it, it's best to consider "safer" companies that have low debt, large cash positions, and revenue that appears to be stabilizing

Advanced Fibre Communications Inc. (AFC) (Nasdaq: AFCI) is one such company, and its stock might be worth a second look. Recent financial performance has been above average, and the balance sheet is strong.

For example, the company holds $987 million in cash and investments ($129.8 million is short-term cash, the rest is marketable securities) and no debt. Inventories were reduced to $23.5 million from $29.7 million in the December quarter without the use of writedowns. Inventory turnover of 6.4 times is more than adequate, and the company holds a respectable 50 days of inventory. Operations remained cash-flow positive with $27.7 million in cash generated in the first quarter.

On the product front, the company is developing new markets. The acquisition of AccessLAN Communications Inc. expands the product line beyond the digital loop carrier (DLC) market. With the Telliant 5000 multiservice edge switching platform, AFC is aiming at bread-and-butter data switching products for carriers. The integration of this acquisition will play a large role in determining AFC's fate. If successful, the shares should have no problem maintaining a premium valuation. If it dilutes earnings, the stock has risk.

The revenue picture at AFC has been less volatile than at most equipment providers. Revenues for the first quarter of 2002 came in at $80.3 million, as compared to $82.1 million in the previous quarter and $82.2 million in the year-ago period. A gross margin of 46.8 percent and good expense control enabled the company to remain profitable. Excluding a gain of $0.02 per share from the sale of securities (Cisco stock), reported earnings were $0.07 per share. In the prior year pro forma earnings, which exclude gains on investment and inventory charges, were $0.06 per share (reported EPS was $1.80).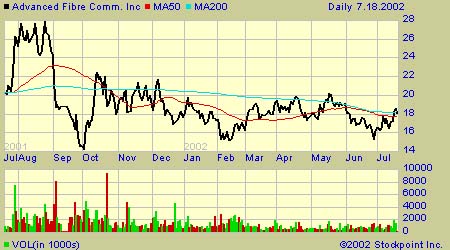 The stock chart above reflects this relative financial stability. AFCI has held above the lows it hit in September of 2001 and has generally been bouncing around in a range of $14 to $20 since then. The same can't be said for many optical networking companies.

With a valuation of 4.7 times trailing twelve-month revenues, the shares reflect the solid financial performance. AFC shares have held up well in this miserable telecom environment, and it is one of the few optical networking companies that's avoided becoming a "single-digit midget." If the company continues to avoid the red flags seen throughout the industry, the shares should perform well. The AccessLAN acquisition and the capital-spending picture do, however, provide plenty of risk for adventurous investors. AFC is scheduled to report second-quarter earnings on July 23.

— Christopher P. Bulkey, Research Analyst, Optical Oracle
http://www.lightreading.com

Editor's Note: Light Reading is not affiliated with Oracle Corporation.