Passive optical networks (PONs) are headed East, judging from new developments in the Asia/Pacific region.

Item one is a potentially huge contract win by Salira Optical Network Systems Inc., which makes PONs based on a relatively new Ethernet architecture capable of running at speeds to 2.5 Gbit/s. (Most PONs today use ATM and top out at 622 Mbit/s.) The startup will deliver five Salira 2000 PON systems, each capable of supporting up to 5,376 individual users, to China Netcom Corp. Ltd. (CNC), that country's second-largest carrier behind China Telecommunications Corp. (NYSE: CHA). Terms weren't disclosed.

Salira's systems will be linked to SDH rings in Beijing and in Changsha City, Hunan Province. They will tap new capabilities in Salira's platform (see Salira Enhances Access System) to add E1 leased-line services as part of CNC's VPN service. Salira's PONs also have Gigabit Ethernet and DS3 capabilties, and work in Sonet as well as SDH networks.

Salira is working on getting provincial approval for CNC deployments elsewhere in China's 31 provinces. This initial agreement should help the others along, spokespeople say.

The news is the latest of several recent developments for Salira in China (see Salira, AdventNet Hold Hands in China and Chinese Ministry OKs Salira). Through its subsidiary, Salira Shanghai Ltd., Salira's got gear installed in trials and deployments throughout the country, following an aggressive drive for business there that started with the company's debut in May 2001.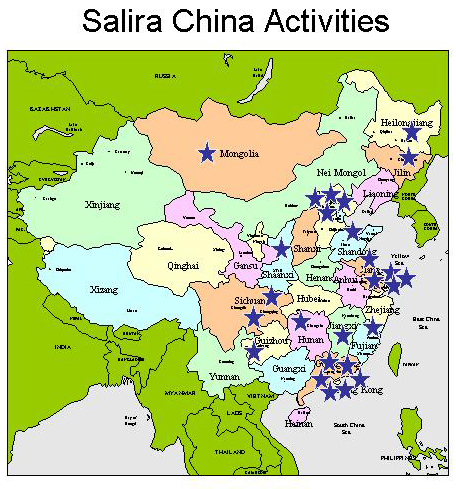 So far, Salira's Asian activity seems to exceed that of chief competitor Alloptic Inc., which nonetheless is forging ahead on domestic deals (see Alloptic Wins FTTP Deal and Alloptic Delivers FTTP in Wash.) and got $35 million in funding three months ago (see Alloptic Scores $35M).

One analyst, Michael Kennedy, co-founder of Network Strategy Partners LLC, says faster Ethernet PONs will eventually outsell ATM-based ones, thanks to their ability to support video and other big-bandwidth applications. What's more, Salira's China deal could be enormous.

"It's very significant," he says, much more so than news of recent developments with regional Bells' fiber-to-the-premises RFP, which appear to favor ATM-based PONs (see RBOCs Hungry for Fiber). Salira's CNC deployment may be small now, he says, but that's what they said about Alcatel SA (NYSE: ALA; Paris: CGEP:PA) before it started cashing in big on its U.S. DSL deployments.

Elsewhere in the world of PON: FlexLight Networks Inc., announced $17 million in new funding today, bringing its total to about $29 million. Like Salira, FlexLight makes a high-speed PON. Indeed, it offers the world's only available gigabit PON (GPON), a technique that's set for standardization by the ITU this fall and has been talked about as a potentially big way to backhaul access traffic (see Who's Growing a GPON?).

FlexLight's investors include St. Paul Venture Capital, Accel Partners, and Applied Materials Ventures, along with previous investors Coral Ventures and Concord Ventures. Several of the VCs have joined FlexLight's board, including St. Paul's Bill Cadogan, ex-CEO of ADC Telecommunications Inc. (Nasdaq: ADCT).

This is FlexLight's Round C. Previously, the firm got about $12 million from a range of sources (see FlexLight Bags $3M More and FlexLight Scores Shekels).

FlexLight will use the money to increase sales and marketing around the globe. It's still actively involved with trials at France Telecom SA (NYSE: FTE) (see FT Evaluates FlexLight's GPON), and it's got eyes turned eastward, too. "The China market is very interesting," says CEO Gary Lee.

— Mary Jander, Senior Editor, Light Reading