Broadband Internet services are growing by double digits worldwide, but the biggest growth could lie ahead, according to a report issued this week by Wachovia Securities Inc.

The firm's "Worldwide Broadband Scorecard" says the global total of broadband subscribers reached 73.8 million in the first half of 2003, a 26 percent increase above the 58.8 million the firm reported at the end of 2002.

Geographically, the Asia/Pacific region has the most broadband subscribers -- about 43 percent of the worldwide total as of midyear 2003. North America has about 34 percent, and Western Europe about 23 percent.

But Western Europe grew fastest in the first half the year: The number of subscribers there rose 35 percent. In the Asia/Pac region, growth was 27 percent. In the U.S., it was 19 percent.

DSL is leading the way in broadband access: About 60 percent of worldwide broadband subscribers use DSL, as opposed to cable modems, for Internet services. And Wachovia says DSL lines accounted for over 70 percent of all new subscribers added in the first half of 2003.

Fiber isn't yet factored into Wachovia's numbers, but the firm will increasingly be looking at fiber access as a key alternative as it starts taking off, according to analyst Richard A. Church. Deployments are already starting in a big way in Japan, he says, where fiber-to-the-home (FTTH) subscribers totaled 608,000 in August, up nearly 200 percent since the start of 2003.

Church also cites figures from the Fiber-to-the-Home (FTTH) Council, an industry group, that indicate there were 94 communities in 26 states in the U.S. with fiber access as of September 29, 2003.

Everything points to a robust broadband market, but Wachovia says the majority of the opportunity is untapped. The analysts say just 29 percent of all households worldwide have Internet access, and 75 percent of those have dialup. The low level of broadband use points to a "significant" opportunity, according to report co-authors Church and William J. Gildea. Indeed, the analysts estimate that broadband links account for just 11 percent of 665 million access lines used for Internet connectivity worldwide. Just 6 percent of those are DSL.

A lot of potential broadband subscribers are in the U.S. and China, they add. Of the largest eight countries in the world with DSL, these two show the smallest percentage of DSL relative to all Internet access lines available. In the U.S., just 4 percent of access lines are DSL-enabled; in China, that figure is 2 percent.

Interestingly, of the eight largest countries with DSL, South Korea, Taiwan, and Japan are the only ones where DSL accounts for more than 10 percent of access lines, the firm notes. And even in South Korea, more than 70 percent of access lines aren't high speed.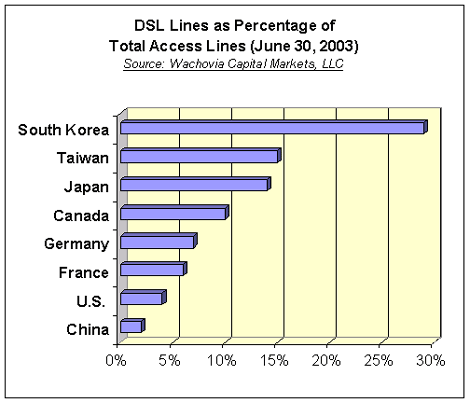 — Mary Jander, Senior Editor, Light Reading