In an intriguing move, Quantum Bridge Communications Inc. today announced the addition of WAN Ethernet connectivity to its access switches (see Quantum Bridge Goes Gig-Ethernet).

The vendor is offering a Gigabit Ethernet WAN switch card designed to fit into its QB5000 and QB3000 Layer 2 access platforms. The card offers multiple secure VLAN (virtual LAN) connections over Sonet, TDM, or wavelengths. It links to Quantum Bridge's QB100 units, which bring voice and data services to customer sites via passive optical networking (PON), a technique for splitting a fiber with passive couplers in order to share bandwidth (see PON: The Dream Is Alive).

The GbE card allows carriers or enterprises to link Quantum Bridge switches directly to Layer 3 Ethernet gear such as switches from Extreme Networks Inc. (Nasdaq: EXTR) or routers from Juniper Networks Inc. (Nasdaq: JNPR). Previously, an intermediate device, such as a multiservice ATM switch, was required to reformat traffic between Quantum Bridge gear and an IP-based WAN.

Quantum Bridge says it's only supporting Gigabit Ethernet right now and won't offer a 10-Gbit/s Ethernet card until it sees more market demand.

Quantum Bridge's card is in use at Sigecom, a multiple system operator (MSO) in Indiana. Sigecom is using it to deliver data services to local small and medium-sized businesses.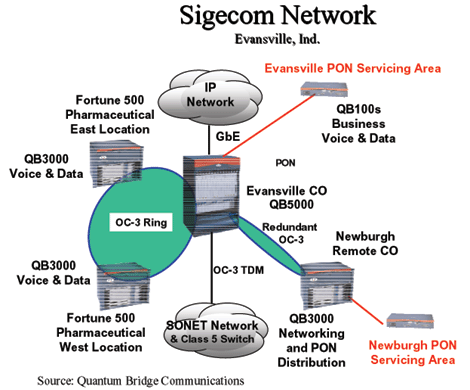 Today's announcement is intriguing because, by adding Ethernet WAN links, Quantum Bridge appears to be moving in on two areas it hasn't directly aimed at before -- while not fully committing to either:


EPON. This is QB's first big move to compete head to head with providers of Ethernet PONs (EPONs), including Alloptic Inc. and Wave7 Optics Inc. These and other EPON vendors claim their Ethernet-based gear offers a cheaper and faster way to share bandwidth over fiber using passive couplers than the standardized ATM-based method used by Quantum Bridge (see PON: The Dream Is Alive).
Edge plus access. QB's also putting itself more squarely in front of companies such as ADVA AG Optical Networking (Frankfurt: ADV) and LuxN Inc. These vendors typically offer PON as an add-on to their equipment, which combines edge and access capabilities in one metro box.


Quantum Bridge is stopping short of taking a firm stand in either of these camps. Instead, it appears to be testing the waters to see just where it might best fit its products, given market trends.

On the EPON side, for instance, Quantum Bridge acknowledges it's not ready to change its architecture to hang fully with the EPON crowd. Its gear is still based on Asynchronous Transfer Mode (ATM).

Sigecom says the addition of Ethernet WAN links plus some price adjustments helped make the case for Quantum Bridge, despite its ATM heritage. "We're primarily an Ethernet shop and don't see the value of ATM on the transport side. Alloptic is very attractive, but they were basically in trials when we saw them, and Quantum Bridge had the product finished and brought the price to where we wanted it," says Bill Potter, director of engineering at Sigecom. "We always leave the door open, though."

Interestingly, Alloptic is primarily aimed at fiber-to-the-home (FTTH) applications, an area where Sigecom says PONs haven't yet penetrated in its region -- and where Quantum Bridge is sitting on yet another fence. "We're still looking at what we'll do about that," a spokesperson says.

When it comes to bumping larger access devices, such as those from LuxN, Quantum Bridge is also falling short of a real play. Right now, it can't displace these players because it doesn't yet offer Layer 3 switching or Multiprotocol Label Switching (MPLS). But here again, Quantum Bridge is hedging its bets, saying it may offer both features later this year. "We need to see if it makes sense to do this ourselves or to organize partnerships," says Jeff Gwynne, cofounder and VP of marketing at Quantum Bridge.

It remains to be seen whether Quantum Bridge can sort out its true identity in the access world. Until it does, it may find itself in a strange limbo, flanked by competitors on either side that are trying to make hay of its identity crisis.

— Mary Jander, Senior Editor, Light Reading
http://www.lightreading.com