Verizon Gets First Taste of 'HBO GO' Portal

Comment (0)
Verizon Communications Inc.
(NYSE: VZ)'s FiOS TV and Internet customers will be the first to have access to
HBO GO
, a broadband-fueled video portal that's starting off with 600 hours of content from the premium programmer.
Verizon customers who subscribe to the company's FiOS TV and Internet services will have access to the site starting Thursday, and will be required to sign in using their FiOS log-in credentials (either at the HBO GO portal or at the
FiOS TV Online
site). Up to three simultaneous users from the same FiOS household can access HBO GO's library.
Comcast Corp.
(Nasdaq: CMCSA, CMCSK) TV and Internet subscribers have access to the same HBO GO library, but they'll miss out on the HBO GO "experience," at least for now. Comcast subs that try to sign in at HBO GO are directed to access shows and movies through the centralized Fancast Xfinity TV Website, which launched nationwide about two months ago. Comcast's approach allows customers to register up to three PCs for access to the premium broadband TV product. (See
Comcast's 'Xfinity' Goes Live
.)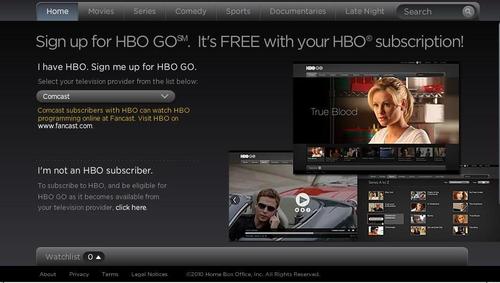 HBO says 'GO,' a service that still carries the "beta" label as of today, offers about four times more "viewing choices" than the HBO On Demand service, which is offered through the more traditional set-top box-based video-on-demand (VoD) platform. One prime example of this is HBO's original series
The Wire
-- HBO GO offers access to all five seasons of that series, while HBO On Demand (at least on Comcast's Denver system) offers just the first season.
For now, Verizon is limiting access to HBO GO to customers that take the company's FiOS TV and Internet services. The company isn't revealing that number, but it's likely to be a large subset of its current FiOS TV sub base of about 2.9 million.
A Verizon spokeswoman said there are no specific plans to offer access to HBO GO to FiOS TV customers that get their broadband service from another service provider. Comcast, in comparison, expects to allow cable TV subs that get broadband from an outside party to use Fancast Xfinity TV by the end of the third quarter of 2010. (See
Comcast to Expand 'Xfinity' to DSL Subs
.)
HBO GO is the latest addition to Verizon's broadband video lineup. It also delivers content from two other premium networks --
Starz Entertainment LLC
and
EPIX
, as well as ESPN360, which is being renamed ESPN3 on April 4. (See
Verizon Downloads 'Starz Play' Deal
.)
HBO GO "gives us another opportunity for us to add value to the FiOS TV subscription," a Verizon spokeswoman says.
Although Verizon's the first to hook into the HBO GO portal, it won't be the last. An HBO official said the channel is "in discussion with all operators" regarding carriage.
An obvious candidate is
Time Warner Cable Inc.
(NYSE: TWC), which has already identified HBO as a programming supplier for its "TV Everywhere" trial. (See
TWC Boots Up 'TV Everywhere' Trial
.)
— Jeff Baumgartner, Site Editor,
Light Reading Cable
PARTNER PERSPECTIVES
- content from our sponsors
GUEST PERSPECTIVES
- curated contributions