Time Warner Cable Inc. (NYSE: TWC) is spreading some video love to the PC this Valentine's Day.

The nation's second-largest MSO has launched a beta version of its TV app for PCs and Macs, offering access to about 200 live TV channels, remote DVR management, an integrated program guide and the ability to turn PCs and laptops into fancy remote controls that can tune channels on some digital set-top models.

TW Cable's version will work on PCs and Mac running Internet Explorer 7.0 and up, Firefox 4.0 and up; Safari 5 and up; and the latest "stable release" of Google (Nasdaq: GOOG) Chrome, which, is 17, according to the MSO. The app also requires at least version 4 of Microsoft Corp. (Nasdaq: MSFT) Silverlight.

But, like similar apps TW Cable has developed for the iPad and iPhone, the PC version also limits live TV viewing to within the reach of the customer's home Wi-Fi network. MSOs are still working on expanded rights packages that will let customers access live TV feeds while they are on the go.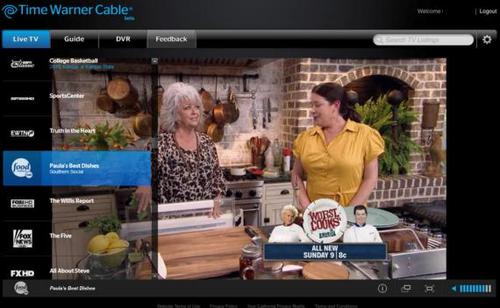 The launch marks a live TV reunion of sorts between TW Cable and the PC. A few years ago, the MSO conducted an 18-month trial in San Diego in tandem with RealNetworks Inc. (Nasdaq: RNWK) that streamed about 75 channels to PCs. About 9,000 cable modem subs took part in it, but the MSO later determined that the test system wouldn't scale. (See Time Warner Starts Over on BBTV.)

Why this matters
After targeting the popular iPad with apps that stream live TV, MSOs are starting to turn their attention again to the PC, as well as to Android devices and gaming consoles.

Cablevision Systems Corp. (NYSE: CVC) is also testing a live TV app for PCs called Optimum App for Laptop (the customer trial is currently closed) and expects to launch it commercially later this year.

For more
Catch up on cable's recent live TV streaming action.



— Jeff Baumgartner, Site Editor, Light Reading Cable