TellyTopia's Cable Pitch: Embrace OTT Video
A small company based in Santa Clara, Calif., thinks MSOs and telco-TV operators can begin to make big changes by embracing "over-the-top" (OTT), Internet-fed video and all but neutralize that emerging threat to their subscription video businesses.
That company,
TellyTopia Inc.
, has been quietly developing a service called "Moveez" that, it claims, will enable operators of all sizes to offer massive video-on-demand (VoD) libraries filled with more than 100,000 titles.
But rather than requiring those MSOs to build out gigantic video server farms and expensive content distribution networks (CDNs) of their own, TellyTopia is pitching a way for them to plug in to a wide range of existing OTT video sources and push content directly to customers. Once those sources are established, operators can ingest movies requested by subs to their own existing VoD systems, and then reformat them for delivery to set-top boxes.
The heart of TellyTopia's video processing and catching platform lives in the proverbial Internet "cloud" and inside cable operator headends, creating an overarching distribution mechanism that's designed to bring content to cable and IPTV services providers from any conceivable source.
That puts it in direct competition with firms such as
ActiveVideo
,
ZillionTV Corp.
,
Clearleap
, and
Related Content Database Inc. (RCDb)
. At a higher level, its Moveez concept would likewise put it on a path to cross swords with consumer-focused OTT video specialists such as
Netflix Inc.
(Nasdaq: NFLX) and
VUDU Inc.
, which was recently purchased by Wal-Mart. (See
Clearleap Jumps on First Win
,
ActiveVideo's Blockbuster
,
Wal-Mart Shells Out for VUDU
, and
Nsight Takes ZillionTV on a Test Run
.)
Moveez represents the next step in TellyTopia's video service evolution and its underlying "i2TV" platform. It cut its teeth by helping operators deliver local content coupled with advertising avails.
A range of cable, telco, and broadcast TV partners -- including
SureWest Communications
(Nasdaq: SURW),
News-Press & Gazette Company
(in St. Joseph, Mo.),
Baja Broadband LLC
, KAXT-CA (a low-power TV station that serves Santa Clara and San Jose, Calif.), and stations in the Edinboro, Pa., and Denver area -- are already using i2TV to deliver such content to almost 2 million TV sets.
Surewest, for example, is using TellyTopia to power a hyper-local channel that enables customers to load video (for example, from a local high school football game) via a Web interface and push it to the telco's set-top-based interactive program guide and video-on-demand (VoD) system... as long as it doesn't raise any copyright red flags.
"We created the platform so it will work for three-minute video clips or a two-hour movie," says TellyTopia vice president Dr. Ram Srinivasan.
Netflix for cable?
With the local angle figured out, TellyTopia is now turning its attention and technology toward movies and other high-cost, professional content. That, the company contends, will allow cable operators to do what companies like Netflix do now or plan to do -- pull in movies from the Web and push them out for display on TVs and mobile devices.
"As long as they [cable operators] have a guaranteed pipe up to the TV, why should they let over-the-top take the initiative?" offers TellyTopia CEO Kshitij Kumar.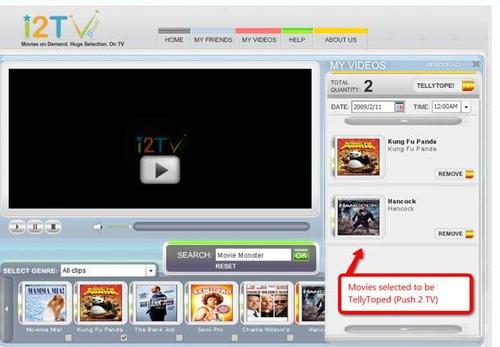 If TellyTopia is able to get studios to play ball, it hopes to give MSOs a way to complement their limited VoD services with a much larger array of content that can come in from the Web and be reprocessed for set-top play-out. That approach, the company hopes, will give cable operators some business incentive to work with TellyTopia and install VoD "catchers" outfitted with the company's software.
"Netflix today is not paying the cable TV companies any money," Kumar notes. Cable operators have their own VoD systems in place, but he adds, Moveez will give them the ability to offer a far larger VoD library without fronting the cash required for a gigantic video storage facility.
Kumar says TellyTopia has integrated its system with "almost all" legacy VoD systems. He declined to name them, but some obvious candidates are
Arris Group Inc.
(Nasdaq: ARRS),
Concurrent Computer Corp.
(Nasdaq: CCUR),
Motorola Inc.
(NYSE: MOT), and
SeaChange International Inc.
(Nasdaq: SEAC).
TellyTopia is also expanding its support for
Enhanced TV Binary Interchange Format (EBIF)
, which can be used to offer interactive ads that allow users to request more info about an advertised product. If an operator doesn't offer EBIF, those ads can show up as non-interactive banner overlays that still match up with the content, Kumar says.
It's also working on an EBIF app that lets consumers search for movies based on actor, director, and other info found in the underlying video metadata. A
tru2way
-based interface is also in development.
The trick now is getting studios and MSOs (and their content partners) to deploy these capabilities. Kumar says one unnamed operator is testing Moveez using content from Boulder, Colo.-based adult content firm The Erotic Network (TEN).
Kumar says TellyTopia intends to have more than 100,000 titles in a "few months," when it launches Moveez on a commercial basis.
That number may sound familiar. It's the one that
Comcast Corp.
(Nasdaq: CMCSA, CMCSK)
reportedly
is targeting for its "Project Infinity" initiative, which will rely on a CDN Comcast is currently developing. It's also believed that
Time Warner Cable Inc.
(NYSE: TWC) has a similar project underway. (See
Comcast Launches 'Project Infinity'
.)
TellyTopia anticipates targeting Moveez to the Tier 2 and Tier 3 MSO and telco service provider market, though it will try to catch on with some major operators, too.
"We are making Baja Broadband have the power of a Comcast. That is the power of this technology," says Srinivasan.
Although TellyTopia has some grand visions, the company itself is fairly small -- about 20 full-time and contract employees. Founded in 2006, it has raised only "angel" funding so far, with
Trilithic Inc.
among its early investors. Kumar says his company does have revenues coming in the door through its initial set of i2TV deals, but acknowledges that it's been approached by potential suitors.
— Jeff Baumgartner, Site Editor,
Light Reading Cable
PARTNER PERSPECTIVES
- content from our sponsors