Starz Entertainment LLC is closing down Vongo , the premium programmer's subscription-based, Internet-fed movie service, and will instead turn its broadband-focused attention solely on "Starz Play," a wholesale version of the service tailored for broadband service providers.

The Vongo home page notes that it stopped accepting new subscribers on Aug. 1. Existing members will have access to Vongo through Tuesday, Sept. 30. An FAQ directs existing Vongo subs on how to "update" to the Starz Play offering.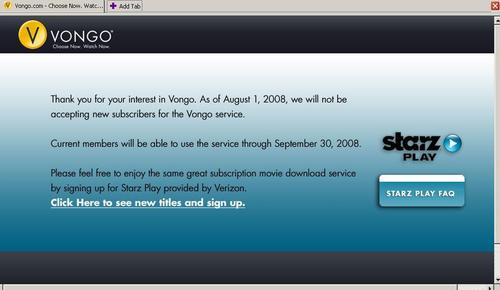 A Starz Entertainment spokesman noted that "interest and dialogue with affiliates" has reached a level where it made more business sense to focus on a wholesale distribution strategy centering on Starz Play.

Questions about Vongo's long-term viability surfaced earlier this year when Starz Entertainment began to talk up the potential of Starz Play. Although Starz Play offers access to about 2,500 movie and video selections, plus a live stream of the linear Starz channel, it does not offer the 200 or so pay-per-view titles available through Vongo. (See Starz Shops IPTV Service.)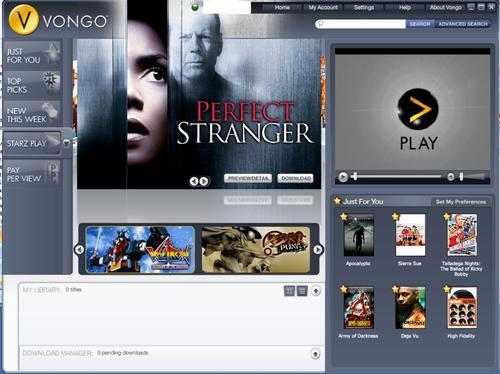 Under the Starz Play model, the broadband service operator, not Starz, owns the customer relationship and is responsible for billing, service provisioning, and distribution and hosting of the content. With Vongo, Starz Entertainment handled all of those components.

By focusing on the wholesale content market, Starz is going head-to-head with some big brand names. Home Box Office Inc. (HBO) and Showtime Networks Inc. , two premium cable programmers that compete with Starz, are also developing broadband-based services for their cable and telco TV affiliates. Time Warner Cable Inc. (NYSE: TWC), for example, is offering the HBO On Broadband service to customers in its Milwaukee and Green Bay, Wis., systems.

In May, Verizon Communications Inc. (NYSE: VZ) became the first (and only, so far) broadband service provider to offer the Starz Play service, selling it for an extra $5.99 per month, though a Starz spokesman says more "Play" deals are in the works. In an interesting twist, consumers can order Starz Play through Verizon, but don't have to reside in the telco's service territory to obtain the subscription movie service. (See Verizon Downloads 'Starz Play' Deal.) Verizon isn't divulging Starz Play subscription figures, but a spokeswoman says the telco "is very pleased with Starz Play and the response of customers."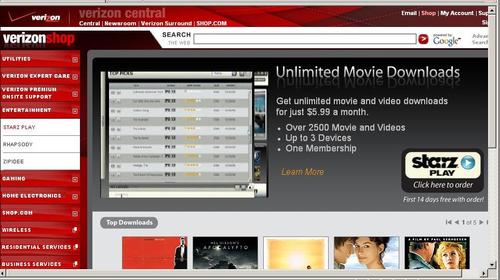 Leichtman Research Group Inc. (LRG) president and principal analyst Bruce Leichtman says Starz's decision marks an "evolution" in its broadband strategy, noting that a complete shift from a stand-alone model to one based on integrated partnerships creates fewer challenges and "is a lot more adaptable." By way of example, he points out that TiVo Inc. (Nasdaq: TIVO) has been able to carve out a small (albeit passionate) portion of the digital video recorder (DVR) market, but greater consumer adoption is occurring in set-tops that integrate the DVR function.

Although Starz execs have insisted the company developed its broadband strategy with a wholesale business model in mind from the get-go, Vongo debuted as direct-to-consumer product in January 2006, and, at last check, the service sold for about $9.99 per month. No subscriber or customer usage data has been made available.(See Vongo Not Chowing on Cable.)

Before that, Starz hooked up with RealNetworks Inc. (Nasdaq: RNWK) on a subscription movie service called Starz Ticket on Real Movies. Starz and Real introduced it in June 2004, but migrated all of those customers to the Vongo platform on June 14, 2007.

— Jeff Baumgartner, Site Editor, Cable Digital News