7:10 AM -- Soon after Comcast Corp. (Nasdaq: CMCSA, CMCSK) and Time Warner Inc. (NYSE: TWX) announced a new deal dripping with TV Everywhere implications, Peter Kafka received a tip that the MSO had begun to let authenticated customers start to stream programming on the iPad. (See Comcast, Time Warner Perchance to Stream .)

Intrigued, I started up my iPad and, lo and behold, there was an update available for the Xfinity TV app that fires up Comcast's new "Play Now" capability to go along with the existing interactive guide and Xfinity Remote apps. It took only a few minutes to update the app and to start streaming my first title. (See Comcast Invades the iPad .)

The image quality was good, but it should have been since I was running it right next to my wireless router.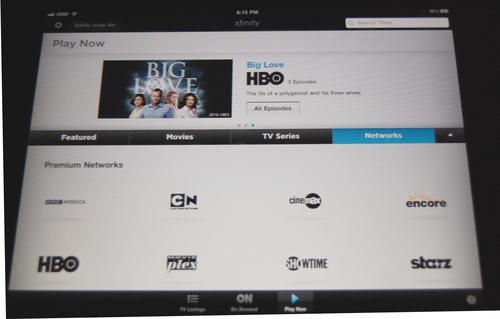 At this point, Play Now gives access to on-demand titles (access to live linear networks will start up later this year) from several cable networks, including HBO, Showtime, BBC America, Cartoon Network, Cinemax, Encore, Starz, MoviePlex (another Starz property), TBS and TNT.

I did a rough count of what's available and came up with about 720 selections, which include a mix of TV series and movies, though I'm sure I missed some in my haste.

Among other examples, HBO is making 87 episodes of Entourage and 12 episodes of its newest original hit, Boardwalk Empire, available via Play Now.

The launch comes almost two months after Comcast president Neil Smit told an investor conference that Play Now would be fired up within the "coming weeks," so he wasn't kidding around. (See Comcast Readies iPad Video Streaming.)

— Jeff Baumgartner, Site Editor, Light Reading Cable