Panasonic Plugs In HD Web TV
Some new high-definition sets from
Panasonic Corp.
(NYSE: PC) will be perfectly capable of delivering broadband video from
Amazon.com Inc.
(Nasdaq: AMZN) and other sources, but, in a move that should keep MSO feather ruffling to a minimum, the initial batch of sets with the consumer electronics giant's "Viera Cast" service on board won't be carrying the
tru2way
label.
Cable industry watchers and "cord cutting" advocates may find that of interest after Panasonic announced today that three Viera Plasma HDTV sets with the Viera Cast feature entering the market this year will connect to an updated version of the Internet-fed Amazon Video On Demand service that touts a library with more than 500 hi-def titles, and about 40,000 shows and movies overall. A 2008 Panasonic model, the Viera PZ850 series, is the first to offer Viera Cast and will have access to the Amazon VoD vault via a free software update. (See
Panasonic Channels Amazon VoD
and
Amazon Pitches HD Movies on Demand
.)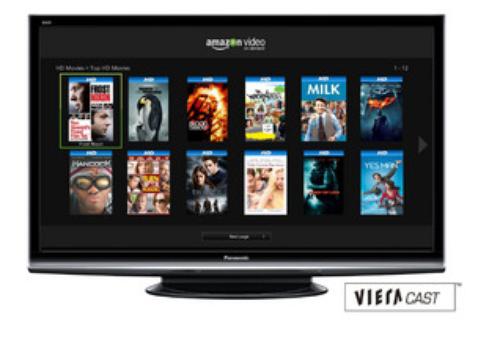 Although Panasonic is offering sets with "over-the-top" video capabilities that compete directly with the cable industry's own VoD services, the vendor remains a significant tru2way champion, with both digital set-tops and set-top-free TVs that can natively support MSO interactive program guides and serve up cable video-on-demand applications.
On the tru2way TV front, Panasonic has two
CableLabs
-certified products -- a 42-inch and a 50-inch model. Those sets have not set the retail world on fire, but the company is selling them in partnership with
Comcast Corp.
(Nasdaq: CMCSA, CMCSK) in Denver, Chicago, and, more recently, in Atlanta. (See
Tru2Way in Atlanta
and
Denver, Chicago First to Get Tru2way TVs
.)
Those sets authorize interactive cable services using the CableCARD but don't have Viera Cast on board. But will upcoming Panasonic-made tru2way sets have the broadband video option? If so, they're not saying.
"The current [Viera Cast] models do not support tru2way and we have no information about future plans," a Panasonic spokesman tells
Cable Digital News
via email.
— Jeff Baumgartner, Site Editor,
Cable Digital News
PARTNER PERSPECTIVES
- content from our sponsors