Most Netflix Subs Stream to TVs

Comment (2)
Here's a quick look at today's cable news.
The majority of Netflix Inc. (Nasdaq: NFLX) subscribers stream their video to TV screens, while 89 percent of Hulu LLC users watch video on a computer, according to The Nielsen Co. It also found about half of Netflix subscribers watch streaming video on gaming consoles such as the Nintendo Wii, Sony Corp. (NYSE: SNE)'s PS3, and Microsoft Corp. (Nasdaq: MSFT)'s Xbox Live. Here's how they stacked up: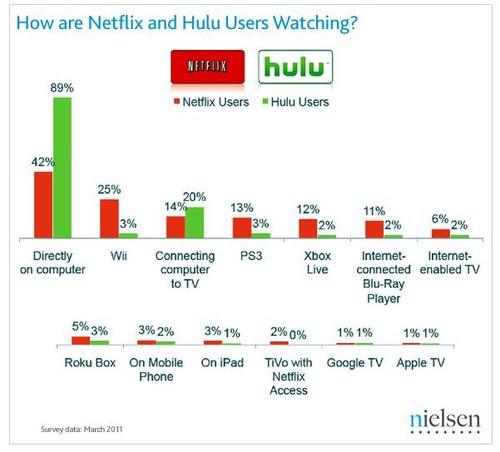 Comcast Corp. (Nasdaq: CMCSA, CMCSK) could be forced to alter the terms of its merger with NBCUniversal LLC , six months after the deal closed. Citing concerns about arbitration terms for online video providers, a federal judge says he may not sign off on a settlement Comcast reached with the U.S. Department of Justice to win approval for the deal. (See FCC Blesses Condition-Laden Comcast-NBCU Deal.)


Even though it refuses to carry Bloomberg TV in a channel "neighborhood" near other news channels, Comcast insists it's not violating conditions placed on its merger with NBCU.


Targeted ad tech firm Visible World is expanding to high-definition programming, supplying advertisers with tools that allow them to create customized spots that can run on hi-def nets. (See Invidi Sues Cablevision, Visible World.)


Big Ten Network is allowing authenticated subscribers to access streaming video of college football and basketball games. Time Warner Cable Inc. (NYSE: TWC), DirecTV Group Inc. (NYSE: DTV) and Dish Network LLC (Nasdaq: DISH) subs can also access BTN2Go content on Apple Inc. (Nasdaq: AAPL)'s iPad and iPhone.


Charter Communications Inc. won approval to expand into Birmingham, Ala., where it could compete against Bright House Networks and AT&T Inc. (NYSE: T)'s U-verse TV.


Cox Communications Inc. could lose the signals from Hearst Television stations in Louisiana, Georgia, and other markets unless it reaches a retransmission consent agreement by Sept. 1.


Amazon.com Inc. (Nasdaq: AMZN) bought UK-based interactive TV firm Pushbutton, which designed interfaces that let its LOVEFiLM International Ltd. stream video to Sony's PlayStation 3 gaming consoles and Bravia connected TVs.

— Steve Donohue, Special to Light Reading Cable, and Jeff Baumgartner, Site Editor, Light Reading Cable


PARTNER PERSPECTIVES
- content from our sponsors
GUEST PERSPECTIVES
- curated contributions