The WatchESPN app launched on Microsoft Corp. (Nasdaq: MSFT)'s Xbox 360 console Monday, for those consumers who've ponied up for Live Gold memberships.

It's also available only from service providers that have deals set up with ESPN: Time Warner Cable Inc. (NYSE: TWC), Bright House Networks , Verizon Communications Inc. (NYSE: VZ), Comcast Corp. (Nasdaq: CMCSA, CMCSK) and Midcontinent Communications (Midco) .

The app, already available on iOS and Android tablets and smartphones and via PC Web browsers, provides the live HD video feeds of ESPN, ESPN2, ESPNU, ESPN3, ESPN Goal Line and ESPN Buzzer Beater. The Xbox version also lets users pick their favorite sports and teams, provides access to a Mini Guide (a preview of all live events and highlights at the bottom of the screen), and a split-screen feature that shows two events concurrently. The app also works with the voice- and gesture-driven Kinect accessory/platform.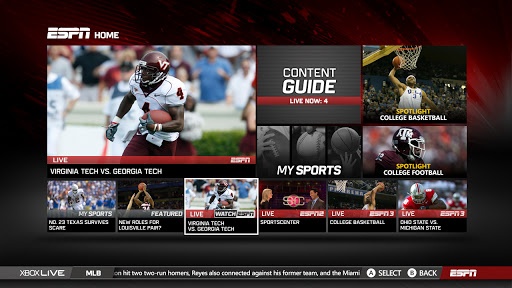 Why this matters
The Xbox 360 still has a long way to go in terms of providing access to live TV programming, but the addition of the WatchESPN app marks the latest step in the device's evolution toward becoming a full-fledged set-top box, and fulfilling Microsoft's vision for making the gaming console the home's central entertainment hub.

Five months ago, at E3, Microsoft had announced it would add more than 30 new content providers to its gaming platform.

For more


— Jeff Baumgartner, Site Editor, Light Reading Cable