ESPN said it is posting solid viewership gains on TV, the Web, and mobile platforms with its coverage of the FIFA World Cup, citing particular traffic surges coming via its recently rebranded broadband-only network, ESPN3. (See Spain Leads LR World Cup Poll.)

While the majority of viewers are watching World Cup matches on TV -- either on ESPN or broadcast sister ABC -- 31 percent of World Cup fans watched games on the Internet, 8 percent listened to games on ESPN Radio, and 6 percent used ESPN Mobile, the network said.

Through June 18, or the first eight World Cup matches, digital viewers spent 354 million minutes on ESPN.com, ESPN3.com, and mobile devices, ESPN said. That's compared to 4.5 billion minutes that TV viewers spent watching World Cup coverage on ESPN and ABC.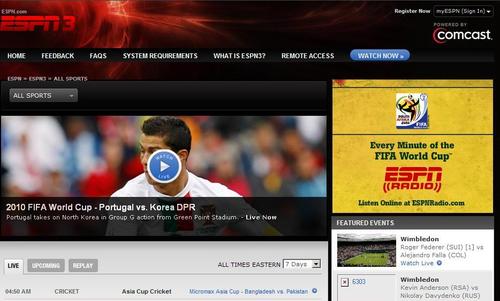 ESPN says its family of networks is posting double-digit growth in viewers compared to the 2006 World Cup. Multi-platform consumers have accounted for 27 percent of all users, and 52 percent of the usage of World Cup content, ESPN said.

While ESPN.com features video highlights, stories, and photos from the championship in South Africa, ESPN3.com is the only US Web outlet offering Internet users video of matches from start to finish in English, in addition to several foreign language feeds.

However, ESPN3.com, formerly known as ESPN360.com, is only available to ISPs that have licensing deals with ESPN for the broadband network. [Ed. note: Some ISPs aren't thrilled about ESPN3's distribution model. Univision Communications, meanwhile, is offering streaming video coverage of the matches via any ISP -- in Spanish.]

ESPN says ESPN3.com counts has more than 60 affiliates, including Comcast Corp. (Nasdaq: CMCSA, CMCSK), AT&T Inc. (NYSE: T), Verizon Communications Inc. (NYSE: VZ), Charter Communications Inc. , Insight Communications Co. Inc. , and Suddenlink Communications . It doesn't yet have distribution agreements with some major US MSOs, such as Time Warner Cable Inc. (NYSE: TWC) and Cablevision Systems Corp. (NYSE: CVC).

— Steve Donohue, Special to Light Reading Cable