Google (Nasdaq: GOOG)'s first sizable TV offensive has apparently hit some rough waters just before the big gadget-fest gets underway in Las Vegas, but the sailing appears to be much smoother when it comes to a more tightly integrated version that's being marketed by Dish Network LLC (Nasdaq: DISH). (See Google TV Stumbles Out of the Blocks .)

Dish launched its Google TV platform in November for $179, a sharp discount over the less-integrated, standalone Logitech Ltd. Revue companion box that's currently selling on Amazon.com Inc. (Nasdaq: AMZN) for $249.99. Sony Corp. (NYSE: SNE) also sells a range of Google TV-powered, Internet-connected televisions, starting at $599.99. (See Dish Starts Selling Google TV and Dish's Google TV Exclusive Will Be Brief .)

In addition to providing some over-the-top content, the Dish version combines Google TV's Web search capabilities with the satellite giant's data related to linear and on-demand programming, as well as content stored on the local DVR. On top of the up-front hardware cost, Dish sells the Google TV option for $4 per month. It works with several Dish boxes, including the ViP 622, ViP 722, and ViP 722k, which connect to the specially integrated Logitech box via an HDMI (high definition multimedia interface) cable.

It marks the first integration of Google TV with a service provider, though Google has been pushing similar deals with cable operators. (See Google TV Guns for Cable Deals .)

Dish declined to comment on a story in The New York Times detailing Google TV's recent troubles or to provide any data on the feedback it's received from customers who have purchased the Google TV package so far. Dish has not disclosed how many customers have signed up for it.

However, it's quite clear that, despite news that Google is asking Toshiba Corp. (Tokyo: 6502), LG Electronics Inc. (London: LGLD; Korea: 6657.KS) , and Sharp Electronics Corp. to delay their Google TV releases at next month's Consumer Electronics Show, the Dish-Google TV combo is open for business. At least there's nothing on the Dish customer site to suggest otherwise.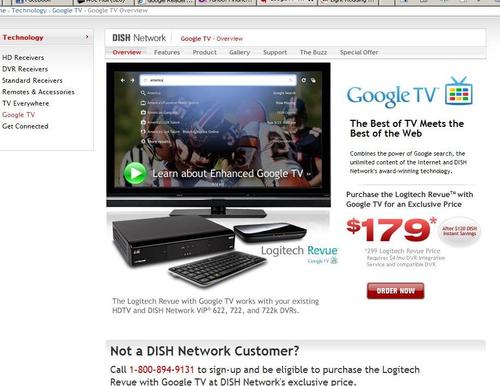 Official reviews of the retail version of the Logitech/Google TV product have been relatively unenthusiastic. Direct consumer reviews on Amazon.com also offer a mixed bag.

One customer who connected the Revue box to a Verizon set-top/DVR called the combination a "disaster," noting that accessing the Amazon On Demand service is "painfully slow to respond, and the picture quality of the video is subpar."

However, another customer claimed to be "very satisfied" overall with the product, but thought it was a bit overpriced, believing it would have more value at $200.

— Jeff Baumgartner, Site Editor, Light Reading Cable