Cox Communications Inc. expanded its TV Everywhere strategy Tuesday with the launch of TV Online, a portal where authorized Cox customers can stream thousands of movies and TV shows from HBO, TNT and other networks.

Cox's centralized approach tracks closely with the Comcast Corp. (Nasdaq: CMCSA, CMCSK) Xfinity Online TV service. Taking that a step further, Cox has also selected Comcast-owned thePlatform Inc. 's "mpx" video publishing system to power its new TV Online service. (See thePlatform Updates Its Platform.)

Cox's TV Online service is starting off with between 15,000 and 20,000 titles, a number that will fluctuate as titles come in and out of availability windows, a Cox official said via email. All Cox TV customers will have access to the service by typing in their Cox user ID and passwords, but will still need a broadband connection (from Cox or another ISP) to stream anything.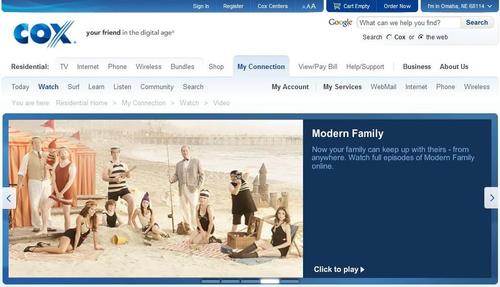 At the start, the majority of Cox TV Online viewing will be limited to PCs and Flash-supported browsers, though Cox has plans to extend support to other devices, including tablets and smartphones. Services such as HBO Go are already offered on a range of Apple Inc. (Nasdaq: AAPL) and Android devices, and another Cox programming partner, Epix, plans to extend viewing to iPads in the coming months. (See EPIX Expands Its TV Everywhere Play.)

Why this matters
TV Online gives Cox, the third-largest incumbent U.S. MSO with about 4.9 million subs, some competitive stakes against Verizon Communications Inc. (NYSE: VZ), Dish Network LLC (Nasdaq: DISH) and DirecTV Group Inc. (NYSE: DTV), which have already introduced, or intend to expand, their own TV Everywhere services. It also gives it a hedge against over-the-toppers like Netflix Inc. (Nasdaq: NFLX).

Cox TV Online is booting up as an on-demand only affair, but it sets the table for a future linear TV offering. The MSO hasn't announced plans to follow in the footsteps of Cablevision Systems Corp. (NYSE: CVC) and Time Warner Cable Inc. (NYSE: TWC) and offer the linear TV line-up to home-bound devices. However, Cox has hinted that access to video services will become a key piece of its budding wireless services strategy. (See Cox Lights Up Wireless in the Sooner State.)

For more
Read more about TV Everywhere:



— Jeff Baumgartner, Site Editor, Light Reading Cable