Comcast's Internet Meter Hits Home
12:45 PM --
Comcast Corp.
(Nasdaq: CMCSA, CMCSK)'s Internet usage meter tests continue to branch out to other markets, and they've just reached parts of Colorado.
I got an email notice yesterday informing me that my cable modem is now participating in the pilot launch, and I was encouraged to visit the Comcast
customerCentral
portal, sign in, and see how many bits and bytes I've been gobbling up lately.
I dutifully did so, curious to see how close I was to hitting the MSO's monthly 250-Gigabyte cap on "excessive use." I watched the entire final season of HBO's
The Wire
on Comcast's Fancast Xfinity TV service in February, so I figured I might see some sort of spike in my Internet usage. (See
Comcast's 'Xfinity' Goes Live
and
Comcast Draws the Line at 250GB
.)
Nope, I'm nowhere near being sent to Comcast's penalty box, where I'd no doubt
feel shame
.
According to their meter, my usage in January and February barely even made a mark. Usage rose to 6 gigabytes in December… and I can't for the life of me recall what I did that month to cause such a relative data surge.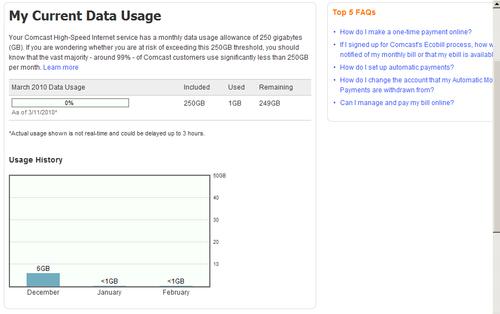 But I'll be keeping an eye on this just the same and see how the usage in my household fares during the year, since our use of broadband video will certainly continue to rise.
Colorado's just the latest Comcast property to get access to the metering pilot. The MSO recently expanded the test to some customers in Seattle and parts of Connecticut, New Hampshire, Massachusetts, Minnesota, and Texas. Utah's also on the short list. Portland, Ore., was the first to get it. (See
Comcast Lights Up Broadband Bit-Counter
and
Comcast Expanding Broadband Meter Trials
.)
Has the test reached you yet? How did your Internet usage stack up?
— Jeff Baumgartner, Site Editor,
Light Reading Cable