A new subscription video streaming service from Comcast Corp. (Nasdaq: CMCSA, CMCSK) may not look like a direct competitor to Hulu LLC 's Premium Plus or Netflix Inc. (Nasdaq: NFLX), but it may keep some of its cable TV customers from joining those over-the-top video services.

Comcast said the new service, called Xfinity Streampix and to be launched on Thursday, will offer thousands of older movie titles, such as Crouching Tiger, Hidden Dragon and The Big Lebowski, and a deeper library of past seasons of TV shows, including 30 Rock, The Office and Ugly Betty. Comcast's initial licensing partners for the new streaming endeavor include corporate cousin NBCUniversal LLC , Sony Pictures, Warner Bros. Digital Distribution and Cookie Jar, a distributor of kids programming.

Comcast is billing Streampix as a "complement" to the 75,000 TV shows and movies it currently offers on its traditional cable VoD service and via its TV Everywhere platform, Xfinity TV. It'll offer Streampix titles initially on iOS devices, with plans to extend access to the Xbox 360 and Android-powered devices later this year.

Comcast will keep Streampix out of the reach of so-called cord-cutters, as users will need to subscribe to the MSO's pay-TV service in order to get it. Early on, the MSO will bundle Streampix with most of its triple-play packages and to customers who tie Comcast video service to one of the MSO's high-end cable modem tier such as Blast!, which comes with a downstream that maxes out at 30Mbit/s. Any other Comcast video subs can get Streampix for an extra $4.99 per month. Importantly, Comcast will not sell Streampix outside of the MSO's cable footprint, at least not here at the start.

"It gives us a lot of flexibility with bundling," a Comcast spokesperson says.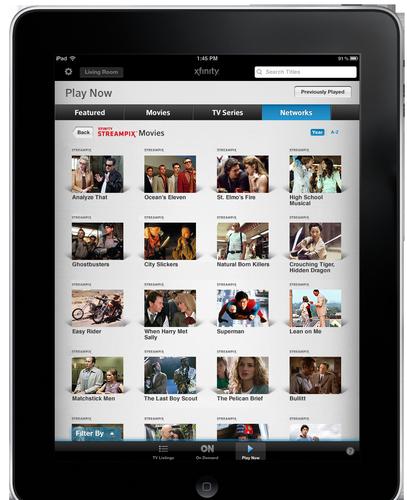 Why this matters
Comcast is launching the service as it looks to shore up its own pay-TV packages and fend off a budding cord-cutting trend.

Streampix is also emerging as Comcast starts to see competitive service providers develop and launch more extensive over-the-top video options. Among recent moves, Verizon Communications Inc. (NYSE: VZ) has teamed with Redbox Automated Retail LLC on a streaming and DVD rental package that will debut later this year.

For more
Read more about cord-cutting and pay-TV's recent embrace of OTT video.



— Jeff Baumgartner, Site Editor, Light Reading Cable