Charter Communications Inc. has given its Internet customer portal more than a new coat of polish following a redesign and relaunch that places a heavier emphasis on video that takes advantage of high-speed Internet connections.

In an effort to support linkages between the MSO's cable modem and traditional video service, the new Charter.net site features streaming on-demand video from cable networks like IFC, HBO, and Showtime, as well as channels from the MTV Networks stable, including Nickelodeon, Comedy Central, MTV, and VH1.

The site will also offer IP-based versions of full episodes from shows ranging from SpongeBob SquarePants to more adult titles like Weeds, Dexter, and Entourage. The new Charter.net also features past seasons' episodes of Sci-Fi's Battlestar Galactica.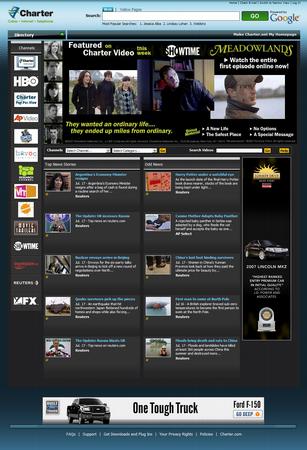 While content from two premium programmers -- HBO and Showtime -- is featured on the new site, Charter has yet to offer shows via the portal from Starz Entertainment LLC , which is fueling its Internet strategy with Vongo , a Web-based service that offers movie downloads and a live stream of the flagship Starz channel. Vongo has yet to score any co-distribution with cable operators or telcos, but, as recently as June, officials have said such negotiations are taking place. (See Vongo Not Chowing on Cable.)

Charter, at this point, is noncommittal on what it may add to the site down the road. "We've had conversations with many of our channel partners," says Himesh Bhise, Charter's VP and GM of high-speed Internet. "This is just an initial list of partners who are working with us on the Web."

Along with the new look and wider range of content, Charter is maintaining its long-standing premium online content partnership with Synacor Inc.

Although Charter does not yet break out Internet search (via Google (Nasdaq: GOOG)) and ad revenues, recent traffic increases look to broaden that strategy. Citing comScore Inc. data, Charter says more than 4 million unique visitors log onto Charter.net monthly. The MSO currently has about 2.5 million cable modem customers and markets three tiers that cap the downstream at 3 Mbit/s, 5 Mbit/s, and 10 Mbit/s.

— Jeff Baumgartner, Site Editor, Cable Digital News