OnFiber Communications Inc., an alternative metro access service provider, has bid $2.3 million for the remaining assets of bankrupt competitor Sphera Optical Networks Inc. (see OnFiber Acquires Sphera Assets).

OnFiber says it shouldered aside Cogent Communications Inc. and Telseon Inc. in bidding for Sphera's assets yesterday. OnFiber is looking to close the deal and take over Sphera's network May 8, without a break in coverage for any customers.

The integration of the networks should be helped by the fact that both shared a common DWDM vendor, ONI Systems Inc. (Nasdaq: ONIS), OnFiber says. And aside from certain parts of OnFiber's points of presence in Washington, D.C., and Dallas, there is reportedly little overlap to fix.

OnFiber will pay $1.7 million in cash and $500,000 in debt to acquire approximately 21 new customer contracts, traffic aggregation points and facilities in four major cities, and network equipment from ONI Systems. OnFiber also says it's getting "more than $400,000" in monthly revenue from the deal, which extends OnFiber's reach to ten metro markets from six.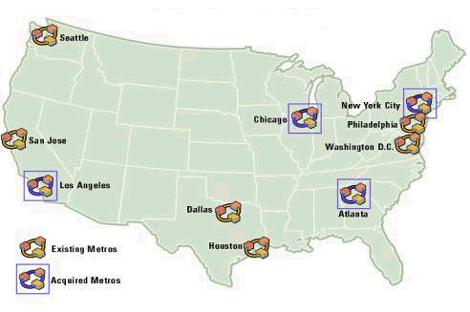 The pending acquisition will put OnFiber in a solid position, its management says, and could hasten the carrier's anticipated 2003 breakeven point. "We were fortunate that we wound up with the assets," OnFiber CEO Danny Bottoms told reporters on a conference call this morning.

OnFiber looked at buying Sphera prior to its Chapter 11 filing in February 2002, but decided the deal was out of reach, Bottoms says. Things changed on April 19, when another metro provider, Universal Access Inc. (Nasdaq: UAXS), withdrew its bid of $7.5 million for the Sphera assets (see Sphera Sale Nixed).

Universal Access announced the withdrawal (and the resignation of its CFO) on April 23. The firm says it backed out for fear that the underlying facilities Sphera leased from Metromedia Fiber Network Inc.(MFN) (Nasdaq: MFNX) were threatened by that carrier's tenuous financial position (see MFN Defaults, Switches CEO, MFN Terminates Fiber Agreements, and MFN Defaults Mount).

"We did not believe we could bid in good faith on something that may not be around," says Universal Access spokesman Brad Samson. Ominously, he says that many aspects of the original deal and its withdrawal must still be resolved by the bankruptcy court.

OnFiber's Bottoms doesn't see the point. "We've done business with MFN," he says. "They get a lot of revenue from dark fiber leases. I can't think why they or their creditors would put a halt to that. Besides, fiber doesn't just disappear. The physical asset is still there even if ownership passes to someone else."

Why was the Universal Access bid so much larger than OnFiber's? "I don't know," Bottoms says. He acknowledges that OnFiber didn't bid on Sphera's Dallas assets, while Universal Access did. All other objects of the two bids were similar.

The deal, if it goes through, looks like a win for OnFiber, considering the state of the market and the original value of the assets. In a note on Universal Access's original bid, Seth Libby of the Yankee Group estimated that Sphera spent $35 million of its nearly $99.5 million funding to construct the network (see Universal Access: Seizing Opportunity in Chaos). Surely, OnFiber's getting good value at a fire-sale price.

It's also interesting that OnFiber was able to put up cash at a time when alternative carriers are strapped. Then again, OnFiber has always been a bit different. Two of its founders (who jumped ship early on) were Jagdeep Singh and Drew Perkins, who also founded Lightera, the DWDM startup that was acquired by Ciena Corp. (Nasdaq: CIEN). Also involved at OnFiber's inception was Vinod Khosla of Kleiner Perkins Caufield & Byers, who played a key role in financing the company.

In today's press release, Khosla was quoted as praising OnFiber's cost structure.

It's tough to argue the point, although it remains to be seen how the drama in this sector of the telecom market will play out -- and this business model has yet to be proven. The stage is strewn with fallen players (see Yipes Joins Chapter 11 Club and Another Metro Provider Fails: Was Vendor Financing the Difference?). Experts say there will be ongoing consolidation before an upturn.

OnFiber is hedging its bets. It has postponed its original plan to go for new funding this year, and while it may look for other opportunities, it's not in any rush.

"There are more opportunities out there than bandwidth to analyze them," Bottoms says. "But it's going to take us a quarter or two to digest this one."

— Mary Jander, Senior Editor, Light Reading
http://www.lightreading.com