The market for "intelligent" optical hardware has beaten expectations so far this year, despite the market downturn during the first half of 2001, says Infonetics Research Inc. But the firm's holding off on forecasting growth for 2002 just yet.

Earlier this year, Infonetics started counting worldwide revenues for intelligent optical network hardware -– defined by the firm as gear that automates networks so they can be controlled as single entities instead of as collections of boxes (see Intelligent Hardware: 'An $8.5B Market').

The firm forecasts that this market will be worth nigh on $10.3 billion this year –- a 52 percent overall increase from 2000 revenue levels.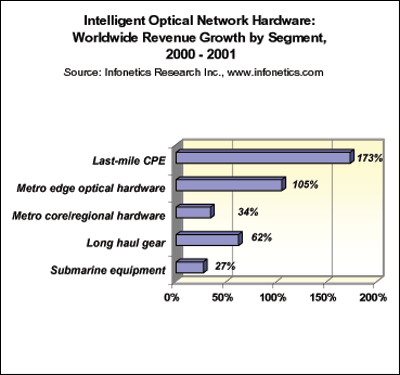 The new total includes actual revenue figures for all of 2000 and for the first half of 2001, along with estimated revenues for the second half of 2001, says Infonetics principal analyst and cofounder Michael Howard.

The firm also changed the baseline revenue figure for 2000 since its first quarterly report. "We've added in revenues from some products we left out in the first go-around," Howard acknowledges. The overall intelligent optical network hardware market was $6.77 billion in 2000, the firm now says. (Originally, it placed the figure at $5.3 billion.)

Howard says the highest growth -- a 173 percent increase in worldwide revenues -- came from sales of last-mile customer premises equipment (CPE). This segment includes all intelligent optical gear residing on customer premises -- such as passive optical networking (PON) termination units, DWDM kit, gigabit Ethernet switches with links to service provider networks, and on-site intelligent Sonet/SDH gear used for data networking.

Growth was also high for metro-edge optical hardware, defined by Infonetics as gear that resides in service provider points of presence, linking CPE to the carrier network in metropolitan areas.

Interestingly, the firm reports that sales of long-haul intelligent optical switching gear grew more this year than revenues from metro-core/regional kit, which links central offices in metro areas to long-haul services. In many other market research reports, long-haul gear has taken a beating.

According to Howard, this anomaly is caused by ongoing interest in next-generation gear, which has built-in intelligence that allows it to be managed and controlled as part of an overall optical network. Some older long-haul DWDM boxes can be managed only as standalone devices, Howard says. Sales of those devices are bleeding out. In contrast, newer long-haul devices with integral intelligence showed robust growth.

The solid growth reported by Infonetics may be a sight for eyes sore from the bad news of recent earnings reports. But Howard, like many forecasters, is treading carefully these days.

"We're holding off on making any 2002 forecasts until next quarter," he says. Until then, he's not even willing to venture a guess as to how sales will -- or won't -- pan out next year.

— Mary Jander, Senior Editor, Light Reading
http://www.lightreading.com