Demand for fiber to the home (FTTH) is on the rise and will be a key driver of optical access techniques such as PON (passive optical networking), according to two reports published this week.

One of the reports, published today on Light Reading's Service Provider Circle, describes how PONs, which extend bandwidth by splitting a wavelength with passive components, will enable carriers to respond to a growing demand for high-bandwidth services to residential subscribers -- services that can only be offered on fiber. (For the full report, see: Optical Access).

However, the report goes on to say that PON deployments won't happen overnight. They've been stalled by the many incumbent carriers that probably won't move until there are sufficient revenues in sight to justify the investment in PON gear. And those revenues won't be forthcoming until applications that exceed the limits of DSL are in demand. That makes for a tough economic case.

One firm cited in the Light Reading report, Technology Futures Inc., says most residential users can sustain their Internet, voice, and video services with 1.5 Mbit/s to 6 Mbit/s of bandwidth, typically from independent telcos and alternative providers. It could take three years or more for demand to rise to 24 Mbit/s, the amount required to run combined interactive video and related applications.

But other sources say the tide may be turning faster than that. In a study released at the Fiber-to-the-Home (FTTH) Council's conference in New Orleans this week, a market research firm with the blood-curdling name of Render Vanderslice & Associates says FTTH connectivity in the U.S. is growing at triple-digit rates and is forecast to expand to more than 14 times its present size by 2004 (see Study: FTTH Set to Explode).

While RBOCs and leading cable MSOs (multiservice operators) wait in the wings, developers of large housing projects, municipalities, carriers associated with public utilities, and small, independent service providers are undertaking ambitious fiber buildouts and offering services to go with them.

Indeed, the firm says its research shows that 60 percent of all FTTH homes have access to a "triple play" service that includes video, voice, and data in the form of Internet access. And experiments are underway for interactive gaming and other applications that can tap the fiber now being extended to residences.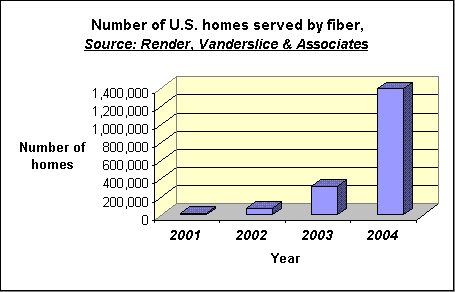 Many of these services are, and will continue to be, enabled by PONs. "PON will play a significant role in early deployments," says Michael Render, president and principal of the Render Vanderslice. Render says the role of PON isn't written in stone for the future, although it's expected to play a role in FTTH, perhaps in conjunction with other fiber-based access techniques, such as fiber equipment with active splitters.

— Mary Jander, Senior Editor, Light Reading
www.lightreading.com