Future Ethernet Standards Unveiled
SEOUL, South Korea -- The shape of standards that will define future Ethernet-based services is being outlined to packed audiences this month during the
Light Reading
Live! Asia/Pacific Roadshow. Moderators here say part of the cost of adding Ethernet services to a carrier's portfolio has to do with exactly how such future services are defined.
The
Metro Ethernet Forum (MEF)
is aiming to define six types of services shown in the chart below, which is taken from the show's introductory lecture by Bob Mandeville,
Light Reading
's Ethernet Project Director and President of
Iometrix Inc.
, a test laboratory.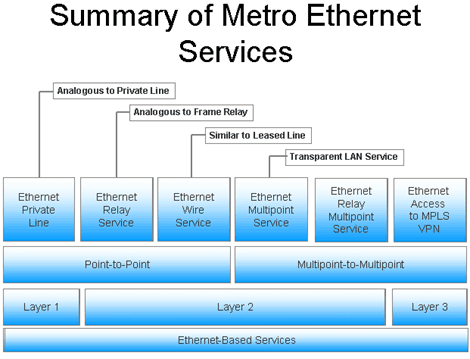 Ethernet Private Line services are clear channels running over Sonet/SDH infrastructure. They offer the rock-solid QOS guarantees of Sonet/SDH but come with Ethernet interfaces, so users can buy the amount of bandwidth they actually need and can upgrade it easily.
Ethernet Relay Service is conventional Frame Relay, with Ethernet interfaces.
Ethernet Wire Service defines clear channels running over Layer 2 infrastructure, like an MPLS VPN. This means the service makes more efficient use of bandwidth than Ethernet Private Lines, but is defined differently and doesn't come with the same rock-solid QOS guarantees.
Ethernet Multipoint Services provide any-to-any Ethernet connections, and are more commonly known as Virtual Private LAN Service (VPLS).
Ethernet Relay Multipoint service. This is an enhanced Frame Relay service, one that enables any-to-any topology VPNs and also enables multiple virtual connections to be consolidated into a single connection, reducing configuration chores.
Ethernet Access to MPLS VPNs. The key point here is that it's a Layer 3 VPN – in other words, one where the carrier effectively runs the users' router network, taking control of its IP addressing scheme.
Mandeville says defining future Ethernet services in a similar way as existing services will help carriers launch them without cannibalizing revenues from legacy offerings. A carrier could, for instance, provide Ethernet Wire Services (EWS) at a small discount to its private line rate at 2 Mbit/s, but then offer to upgrade the EWS service to 4 Mbit/s for a relatively modest increase in tariff. The carrier's costs in providing the extra bandwidth would be very low, because the connection would be reconfigured remotely. So the extra revenue is nearly all profit.
A whole slew of other upcoming standards for running Ethernet over access networks are also being outlined in the
Light Reading
Live! Asia/Pacific Roadshow, as shown in the chart below.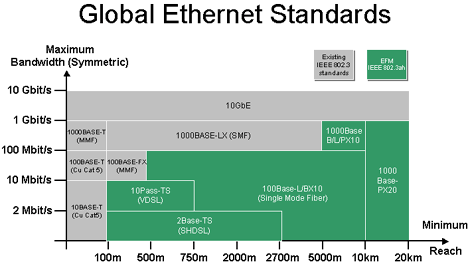 These include:
10Pass-TS defines a way of running 10-Mbit/s symmetrical Ethernet connections over copper local loops (Category 3 cable), using VDSL technology, for distances of at least 750 meters.
2Base-TL is another Ethernet over DSL option, offering a longer reach of at least 2,700 meters and a lower symmetrical bandwidth of 2 Mbit/s. It also defines higher speeds, achieved by using multiple copper pairs.
100Base-LX10/BX10 and 1000 Base-LX10/BX10 defines a point-to-multipoint Ethernet passive optical network (PON). It aims to reach up to ten kilometers on singlemode fiber.
1000Base-PX10/20 defines a 10km or 20km PON with a splitter capable of serving 16 locations.


These definitions come from the
Ethernet in the First Mile Alliance (EFMA)
, one of the sponsors of the
Light Reading
Live! Asia/Pacific Roadshow. Other sponsors are
Alcatel SA
(NYSE: ALA; Paris: CGEP:PA),
Cisco Systems Inc.
(Nasdaq: CSCO),
Extreme Networks Inc.
(Nasdaq: EXTR) and
Ixia
(Nasdaq: XXIA).
Last week, the
Light Reading
Live! Roadshow hit Beijing and Shanghai, and a one-day seminar, "Metro Ethernet: A Carrier Class," was staged in each city. More than 200 delegates, nearly all of them from Chinese carriers, attended the Beijing event, and more than 100 attended the Shanghai seminar.
Tomorrow, the show arrives here in South Korea, where it will kick off at 8:30 A.M. at the JW Marriott in Seoul. For more details, including a peek at the conference agenda, click
here
.
— Peter Heywood, Founding Editor,
Light Reading
---
Archives of Related
Light Reading Webinars
:
EDUCATIONAL RESOURCES

UPCOMING LIVE EVENTS
June 6-8, 2023, Digital Symposium
June 21, 2023, Digital Symposium
December 6-7, 2023, New York City
All Upcoming Live Events
PARTNER PERSPECTIVES
- content from our sponsors