A slew of recent developments has focused attention on the ever-elusive market for fiber to the home (FTTH), which would provide residential homes with high-speed fiber optic connections. The seemingly fragile hopes of companies developing technology for this market appear to be getting both a boost and a bust.

Here's a rundown of the "good news, bad news" headlines within the last few days:



Good News



Bad News
On February 5, despite lobbying by members of the Fiber-to-the-Home (FTTH) Council consortium (see Congress Gets Lobbied), Congress failed to pass an economic stimulus bill with a key broadband provision that would give tax credits to companies investing in FTTH gear.



NOTE: Alcatel SA's (NYSE: ALA; Paris: CGEP:PA) layoff of about 140 employees at an R&D center in Raleigh, N.C., appeared to include a fiber-to-the-home project, another potential bad news item. Now, Alcatel says that the FTTH project in Raleigh was unaffected by the layoff, and that the roughly 100 people deployed in that effort remain at work. "This is an important project to us," says an Alcatel spokesman.

Industry sources say the news amounts to temporary setbacks and small gains in a market that continues an upward climb. "The market is beginning to show growth, but it is going to be modest for a while, with a lot of small announcements," says Mark McDonald, VP of the business unit at Marconi PLC (Nasdaq/London: MONI) devoted to fiber to the home and business. He anticipates the FTTH market will more than double by the end of next year.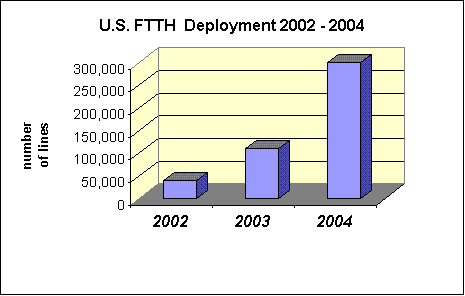 Marconi has been behind one of the key small announcements recently – the running of fiber to about 680 homes in Virginia (see Verizon Deploys Marconi) using its PON (passive optical network) gear. While still very small, this project is important to FTTH vendors because it signals the interest of a key RBOC in testing solutions. Other recent contracts show that small providers, usually backed by municipal governments, are the main deployers of FTTH right now.



Dynamic Table: Recent Fiber to the Home Projects

Select fields:
Today's deployments include many solutions, like Marconi's, based on PON gear. PON is a technology in which fiber is split with passive couplers, enabling bandwidth from a single high-speed connection to be shared amongst customers (see PON: The Dream Is Alive). The technique appeals to FTTH service providers because it reduces the amount of fiber (and associated operating and maintenance costs) assigned to individual residences.

Marconi has made PON the linchpin of its FTTH strategy, but there are other solutions, too. Vendors such as PurOptix Inc., Wave7 Optics Inc., and World Wide Packets Inc. use active components, not passive couplers, to distribute broadband services to homes (active components, like lasers and amplifiers, are more expensive than those that simply split optical channels). (See Optical Taxonomy, page 5 for more.)

Other products are in the works. Ethernet-based PON products are emerging to replace the gear that's generally based on Asynchronous Transfer Mode (ATM) today (see Alloptic Pushes PON Scheme). And startups such as Iamba Technologies Inc. purport to have yet another take (see Introducing Iamba).

Despite the proliferation of solutions, getting the backing of incumbent carriers has been difficult, to say the least. SBC Communications Inc. (NYSE: SBC) has conducted trials here and there, and reportedly is planning to roll out service in San Francisco this year. BellSouth Corp. (NYSE: BLS) has conducted several trials but doesn't have much to show for it. Large international carriers, including Bell Canada (NYSE/Toronto: BCE), are rumored to be readying FTTH trials.

But little has come of these activities. "Yes, there's been a slight increase in the number of trials, but we've been seeing fiber-to-the-home trials for close to twenty years now," says Barry Moon, senior analyst at RHK Inc. "Lots of the companies involved in past trials aren't even around anymore."

Moon says the recent flurry of FTTH publicity may have been part of the vendors' efforts to convince Congress of the merit of recent economic stimulus legislation. He says FTTH won't really take off until carriers can make money doing it. Fiber needs to be run to places where services will actually be used, he asserts.

Specifically, services need to be cheap enough that most homes can afford them – and that hasn't been the case in past proposals, which have sometimes specified pricing in the hundreds of dollars per month per homeowner. "Failures occur where the deployment plan doesn't match the spending habits of the general public," Moon says.

Right now, municipalities and governments have become most involved in FTTH as a means of developing their own communities, often with government funds. These groups, such as Central Texas Utilities and the City of Palo Alto, Calif., offer readymade customer bases, are fairly well funded, and usually own the rights of way to the homes they're trying to reach. Some companies also own HFC networks that can be extended to serve other broadband requirements.

"We call these 'MLECs,' for municipal local exchange carriers, and we see about 200 of them nationwide," says Jeff Gwynne, cofounder and VP of marketing at Quantum Bridge Communications Inc. Gwynne says Quantum Bridge, a key player in business PON access, is still considering how best to approach the FTTH market, but he thinks there may be a $400 million to $600 million opportunity among the MLECs.

So what's next? According to Bob Whitman, treasurer of the FTTH Council board, who also works at Corning Inc. (NYSE: GLW), the FTTH effort needs the boost of a couple of really strong deployments by big carriers.

"Municipalities are going to offer just one-time builds. What's needed are service providers with large areas and clear plans to help move things along," he says. "We're all hoping in the incumbents."

— Mary Jander, Senior Editor, Light Reading
http://www.lightreading.com