Big regional differences in the target markets of carriers deploying Ethernet access technologies have emerged in Light Reading's September Research Poll.

In North America, Ethernet-to-the-home is considered a dead duck by respondents so far. It's got zero votes in the poll, while 65 percent of respondents expect Ethernet to have the biggest impact in services to small-to-medium-sized businesses.

In contrast, Ethernet-to-the-home gets the biggest vote -- 53 percent -- in the Asia/Pacific, with the small-to-medium businesses market garnering a mere 26 percent.

Western Europe occupies the middle ground. Ethernet-to-the-home gets 25 percent of the vote, while SMBs get 40 percent.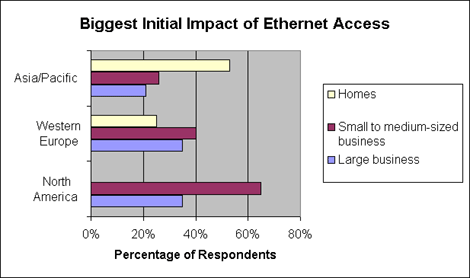 Other results of the poll include:


Ethernet will become more commonplace than ATM in copper access lines supporting broadband services in 2007, according to the largest proportion of respondents -- 35 percent.


Ethernet will take longer to become the predominant method of terminating telecom services over fiber access lines. The largest proportion of respondents think this won't happen until 2008 or later.


The primary incentive for telcos to roll out Ethernet access to businesses is being able to bundle multiple services on a single access line, and being able to use low-cost equipment (each got 30 percent of the vote).


The primary incentive for telcos to roll out Ethernet access to homes is bundling multiple services on a single access line (25 percent of the vote), followed by offering video-based services (20 percent).


The primary obstacle to Ethernet access to businesses is the threat of cannibalizing existing services (45 percent of the vote).


The primary obstacle to Ethernet-to-the-home is lack of user demand (25 percent). (FastWeb SpA in Italy would probably disagree -- see TV Over DSL Over Italy .)
To take the poll yourself and see the latest results in detail, please click on this link.

— Peter Heywood, Founding Editor, Light Reading