Broadcom Corp. (Nasdaq: BRCM) has taken the wraps off a Digital Terminal Adapter (DTA) chipset that promises to shrink the devices' cost and form factor and, perhaps more importantly, allow the boxes to run on Cisco Systems Inc. (Nasdaq: CSCO) and Motorola Inc. (NYSE: MOT)-based digital cable networks.

Broadcom says the BCM7002 chipset is based on the latest DTA 4.0 specifications from Comcast Corp. (Nasdaq: CMCSA, CMCSK). Comcast is buying and deploying millions of DTAs (also called Digital Transport Adapters) to help fuel a major analog reclamation effort it calls Project Cavalry. (See Broadcom Chips In Next-Gen DTA and Comcast's $1B Bandwidth Plan .)

Changes over the 3.0 specs include an integrated 1GHz tuner and switchable content protection, which means the devices can detect and support content protection for Moto and Cisco cable networks -- making them "universal" in the U.S. cable duopoly way of thinking. The earlier version of the chipset is fixed with Motorola "privacy mode" encryption. (See Comcast Lights Up DTA Encryption .)

Although Mediacom Communications Corp. and other MSOs are using Broadcom-powered DTAs, Comcast is considered the frontrunner on early adoption, not just because it developed the 4.0 specs, but because it's eager to introduce DTAs to its Cisco-based digital video footprint.

Comcast has deployed more than 6.2 million DTAs of the 3.0 variety so far, and expects to have Cavalry mostly finished by the end of 2010. It ended 2009 with about 35 percent of the job complete, with deployments limited to its Motorola-based markets. (See Comcast to Wrap Wideband, All-Digital Rollout This Year.)

A spokeswoman said Comcast has some "limited field trials currently underway" with 4.0-based DTAs, but couldn't say when the company might push ahead with a broad, commercial deployment.

Broadcom officials say the new 4.0 chip will help manufacturers reduce the physical size, power consumption, and the bill of materials for the new breed of universal DTAs (uDTAs).

DTAs can be had for about $35 per unit, but Broadcom declined to speculate how much prices might fall with the new chipset now in play. Broadcom senior product group manager Brett Tischler says the 4.0 reference design puts out less than 2.5 watts, while the 3.0 model comes in at just under 4 watts.

Broadcom's reference design measures 3.25 inches by 2.25 inches -- about the size of a small deck of business cards.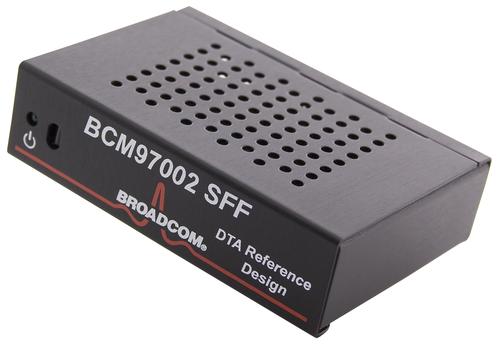 Huawei Technologies Co. Ltd. , which is using Broadcom's DTA chips, had 3.0 and 4.0 models on display at the Society of Cable Telecommunications Engineers (SCTE) Cable-Tec Expo in Denver. This image illustrates the size difference between them. (See Huawei Breaks US Set-Top Seal and Huawei Gets Box Break at the FCC .)

Broadcom senior director of marketing John Gleiter says volume production on the new chipset is underway, but he couldn't reveal a full list of takers. Comcast is already using DTAs from Motorola, Technicolor (Euronext Paris: TCH; NYSE: TCH) (formerly Thomson), and Pace plc , with Cisco expected to join the mix soon. (See Au Revoir, Thomson – Bonjour, Technicolor.)

Industry sources say Huawei has signed off on the DTA-related licenses required to get in the door at Comcast, but it's still not clear whether the MSO has placed any orders with the China-based vendor. Evolution Broadband LLC recently obtained a Federal Communications Commission (FCC) waiver for a uDTA, but was not immediately available Monday to confirm whether it's based on the new Broadcom silicon.

Gleiter says Broadcom is also working on a DTA model that bakes in Bluetooth. That addition would give consumers the ability to hide the super-small DTA behind the TV, but still have the ability to change channels and use other functions employing a Bluetooth-based remote control. Today's DTAs use infrared remotes that require line-of-sight access between the box and the remote.

Broadcom's also developed a chipset for a DTA that can render and display high-definition television signals, but the FCC has yet to approve any models. (See Broadcom Breaks Out HD-DTA Chipset .)

— Jeff Baumgartner, Site Editor, Cable Digital News