More new DSL subscribers were signed up globally in the first quarter of 2003 than in any previous quarter: 5.5 million lines were added around the world, bringing the total to 41.4 million, according to market research firm Point Topic Ltd. (see Global DSL Shows Record Growth).

Japan experienced the greatest growth, adding 1.4 million DSL subscribers in the first quarter, giving it 7 million in total. This puts Japan at the top of the world DSL league table, a fraction ahead of the U.S., with South Korea not far behind (see chart 1). China showed the second-highest aggregate growth, adding 680,000 lines for a total of nearly 3 million.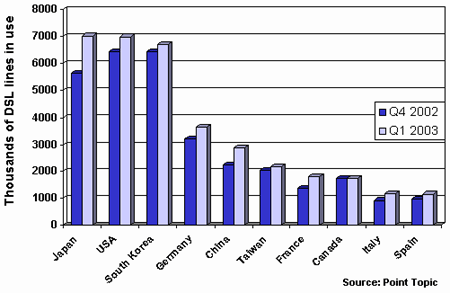 Key to Japan's growth is the combination of low prices and high speeds available, according to Point Topic. That's a combination that prevails throughout much of Asia, including South Korea and Taiwan, which have the highest DSL penetration rates in the world (see chart 2).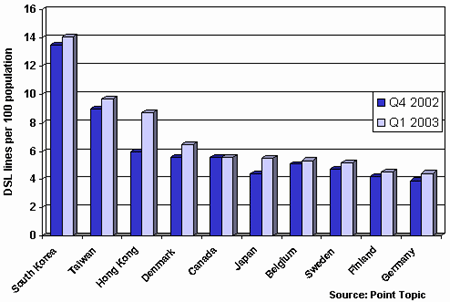 Could that combination boost uptake elsewhere in the world, as well? To find out, read the full story on Boardwatch. — Ray Le Maistre, International Editor, Boardwatch