Telstra Corp. Ltd. (ASX: TLS; NZK: TLS) is the latest telecom provider to join the Docsis 3.0 club, stamping its membership with the launch of a 100-Mbit/s service on its hybrid fiber/coax (HFC) network in Melbourne.

That's a significant boost over Telstra's previously fastest tier, BigPond Cable Extreme, which offers downstream speeds up to 30 Mbit/s to 1.8 million homes. Another 900,000 Telstra cable homes have access to peak speeds up to 17 Mbit/s.

Telstra plans to make the new tier available to about 1 million homes on Dec. 1.

Although the new cable modem tier will be among the fastest when it comes to downstream bursts, it's still lacking similar punch in the upstream, offering a very asymmetric 2 Mbit/s. Even without the benefit of Docsis 3.0 upstream channel bonding, U.S.-based MSOs such as Comcast Corp. (Nasdaq: CMCSA, CMCSK) and Cablevision Systems Corp. (NYSE: CVC) have been able to offer wideband tiers that market best-effort upstream speeds in the neighborhood of 10 Mbit/s or 15 Mbit/s. (See Comcast Speeds Past Qwest in Denver and Cablevision Debuts 101-Mbit/s Wideband Service.)

The operator isn't saying anything yet about monthly pricing or usage caps for the new tier. Regarding the latter, the largest monthly Internet usage allowance Telstra offers is 400 GBytes, and it generally charges 15 cents per megabyte above that cap. The exception is the company's BigPond Liberty, which slows service to 64 kbit/s when the customer reaches his usage allowance and doesn't resume speeds to normal levels until the start of the next billing cycle.

Telstra said this portion of its HFC upgrade will cost less than the $300 million originally expected, but noted that its overall capex plan for the year remains firm at $3.8 billion.

In tandem with the Docsis 3.0 upgrade, Telstra also announced that an upgrade to its Velocity fiber-to-the-home (FTTP) network will also push downstream capacity to 100 Mbit/s.

Teeing up the 'T-Box'
Telstra plans to use these faster speeds to help feed the T-Box, a dual-tuner DVR that has 200 GBytes of storage and is capable of recording free-to-air TV shows as well as broadband-fed content from the BigPond TV and BigPond Movies download services.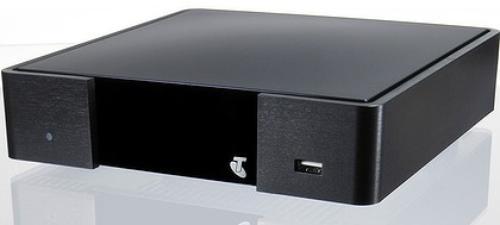 Content piped to the T-Box, which will compete against TiVo Inc. (Nasdaq: TIVO) and the Foxtel iQ, reportedly will complement channels from Foxtel, a cable and satellite TV operator in which Telstra owns a 50 percent stake.

Telstra hasn't released pricing on the T-Box, but expects to start trials in Melbourne within months.

The speed upgrades and product introductions are coming into play as the Australian government looks to break up the carrier, proposing that Telstra separate its retail business from its network and wholesale operations.

That proposal is linked to Australia's $30 billion-plus National Broadband Network (NBN), a budding open-network project. As the thinking goes, the separation of Telstra's retail operations would give the company a second chance to participate in NBN, since the government originally disqualified Telstra from the request for proposal (RFP) process. (See Telstra Faces Breakup and Australia Unveils $31B FTTP Plan.)

— Jeff Baumgartner, Site Editor, Cable Digital News