Canadian MSO Shaw Communications Inc. appears to be the first North American cable operator to deploy a Docsis 3.0-fueled Internet tier that allows downstream bursts of up to 100 Mbit/s.

Shaw is promoting the new tier in its Saskatoon properties under the "High-Speed Nitro" brand. Shaw is pairing that bonded downstream with a single-channel Docsis upstream that limits speeds to 5 Mbit/s. Customers who take the tier are subject to a monthly 200-gigabyte consumption cap.

According to the promo, the new wideband tier runs C$249.95 (US$208.89) when bundled with another Shaw service. It costs C$269.95 (US$219.20) per month as a standalone service. Shaw's next level of service marketed in Saskatoon, "High-Speed Warp," offers 25 Mbit/s down by 1 Mbit/s for $88 per month, and is subject to a 150-GB cap.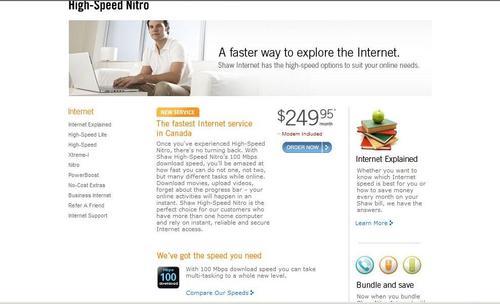 Although Shaw, which expects to deploy Docsis 3.0 in multiple markets this year, is pushing the needle with a 100-Mbit/s service, it's not the only Canadian cable operator that's giving wideband a go.

Vidéotron Telecom Ltd. recently expanded a Docsis 3.0 tier in Montreal that tops out at 50 Mbit/s. Rogers Communications Inc. (NYSE: RG; Toronto: RCI), Canada's largest MSO, is testing Docsis 3.0 now, and expects to start deployments later this year. (See Videotron Hits the Gas , Videotron Widens Wideband Footprint and Docsis 3.0 Hits Great White North.)

Collectively, these efforts should apply some pressure on BCE Inc. (Bell Canada) (NYSE/Toronto: BCE), whose high-end tier -- dubbed "Bell Internet Max 16" -- offers 16 Mbit/s down by 1 Mbit/s up.

Shaw's move to 100 Mbit/s also gives it some bragging rights among other North American operators. In the U.S., Charter Communications Inc. is currently top of the heap with a limited deployment in St. Louis that caps the downstream at 60 Mbit/s. Worldwide, Japan's Jupiter Telecommunications Co. Ltd. (J:COM) is setting the bar with a 160 Mbit/s (downstream) service. (See Charter Takes On U-verse , Wideband: Priced to Move , and J:COM Does Docsis 3.0 All Over.)

— Jeff Baumgartner, Site Editor, Cable Digital News