Leaving the limelight to some of its more vocal rivals, Netgear Inc. (Nasdaq: NTGR), best known for its WiFi routers, has been quietly executing a Docsis 3.0 modem strategy and has its first certified product ready to ship.

After announcing a Docsis 3.0 integration partnership in mid-2006 with BigBand Networks Inc. (Nasdaq: BBND), which had yet to scuttle its own cable modem termination systems (CMTSs) product line, it's been mostly quiet on the cable front for Netgear, and completely muted when it came to its involvement in the U.S. market.

That picture changed a bit in June, when an update posted by CableLabs revealed that, following Certification Wave 60, Netgear had obtained Docsis 3.0 certification for a standalone modem called the CMD31T. (See Certified: Netgear's Wideband Modem and Docsis 3.0 Gear Tracker III .)

In addition, a gateway device, the CGD24G, came away with Docsis 2.0 certification.

"We'll have a full Docsis 3.0 product portfolio over time," says David James, Netgear's director of product management, noting that the vendor's Docsis 3.0 family will eventually include embedded multimedia terminal adapters (EMTAs) and modem gateways with integrated WiFi 802.11n, a wireless standard Docsis 3.0 users will need to handle the faster data throughputs.

But for now, Netgear's 3.0 product family is limited to a standalone cable modem. "We have a certified product and it'll be shipping in production quantities very soon," James says.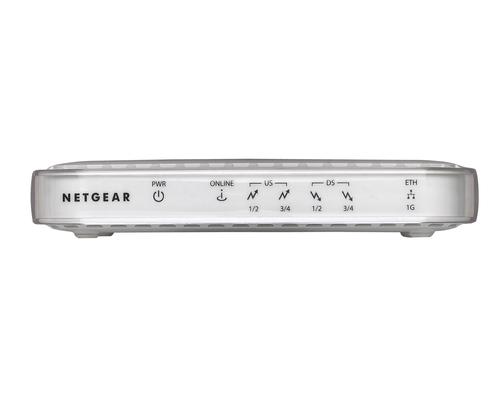 That model (like its earlier-generation pre-3.0 wideband modem, the CM232) uses LED indicators to indicate how many channels are being bonded at a given time. "This has been a successful marketing tool for our customers," James says.

Going MSO direct
Although Netgear has a significant retail presence in chains such as Best Buy and RadioShack, its "primary strategy" for Docsis 3.0 gear will be direct-to-MSO sales, according to James. "If the MSOs promote [products and services] through retail, that's something we can also facilitate," he says.

About 28 percent of Netgear's revenues are derived from sales to service provider partners, which include majors such as Comcast Corp. (Nasdaq: CMCSA, CMCSK), Cox Communications Inc. , Time Warner Cable Inc. (NYSE: TWC), and BT Group plc (NYSE: BT; London: BTA). As for the vendor's current traction with U.S. MSOs, some have deployed Netgear's Docsis 2.0-certified gateways with built-in home networking, while others are deploying Netgear's four-port WiFi routers in tandem with EMTAs from other vendors.

Netgear's Docsis 3.0 strategy may be just getting off the ground, but the vendor has quietly established a sizable chunk of the cable modem market. Netgear has shipped more than 1 million Docsis-based modems and gateways during the past year, according to Netgear service provider product marketing exec Bob Burke. To demonstrate the ramp it's on, Netgear shipped just 60,000 Docsis units in the third quarter of 2006.

Wideband booster?
Although Netgear is grabbing share primarily with integrated Docsis devices, the company believes the cable sector's migration to Docsis 3.0 will help it expand its share of the cable modem market.

From a geographic perspective, most of the channel-bonding action is in Asia/Pacific and Europe. Jupiter Telecommunications Co. Ltd. (J:COM) of Japan, for example, has already installed a Docsis 3.0 infrastructure across the board. (See J:COM Does Docsis 3.0 All Over.)

In the broader Wideband product market, Netgear has made some significant progress in Europe, particularly with Numericable-SFR of France, which is using a "pre"-Docsis 3.0 Netgear modem powered by Broadcom Corp. (Nasdaq: BRCM) silicon that bonds multiple downstream channels.

The full Docsis 3.0 specifications require modems, at the bare minimum, to be able to bond four downstream and four upstream channels. Other specifications include IPv6 and the Advanced Encryption System (AES). Netgear's initial Docsis 3.0 modem entry is based on a Texas Instruments Inc. (NYSE: TXN) chipset.

Another potential 3.0 customer for Netgear is believed to be British cable operator Virgin Media Inc. (Nasdaq: VMED), which is deploying a 50 Mbit/s service and has its sights set on a 200 Mbit/s Internet tier. (See Virgin Media Sees Silver Lining.) Netgear, though, will face plenty of competition at Virgin Media, particularly from Motorola Inc. (NYSE: MOT) and Ambit Broadband .

As for the U.S. market, Netgear is among several cable modem makers vying for business with Comcast as the MSO continues to move aggressively with Wideband services, a Docsis industry observer notes. (See Comcast Enters the Wideband Era .)

Netgear's "focus is Europe, for sure, [but] they have U.S. envy," the source adds, before noting that Netgear's ability to service and support major MSO accounts such as Comcast will determine whether it can be a major player in the U.S. market.

— Jeff Baumgartner, Site Editor, Cable Digital News