For Sale: Wideband Gear
3:30 PM -- Whether you're a fan of
eBay Inc.
(Nasdaq: EBAY) or
Fry's Home Electronics
, you, too, can buy some Docsis 3.0 equipment to call your very own!
And we're not just talking cable modems here. How about a chassis-sized cable modem termination system (CMTS) that can double as a coffee table if you're not yet ready to bond channels and offer your neighbors some screamin' speeds?
Let's start with eBay. A recent search uncovered four Docsis 3.0 items: two
Motorola Inc.
(NYSE: MOT)-made,
CableLabs
-certified modems, and two flagship uBR10012 CMTSs from
Cisco Systems Inc.
(Nasdaq: CSCO) that also carry the wideband label.
Potential buyers please take note: The seller, "sma-inc," has a uBR10012 for the low, low, low "buy it now" price of $49,000. If you lose out on that opportunity, the same seller has another one for sale for $30,000 more -- and, no, it's not gold-plated, diamond-studded, or otherwise adorned by some other superfluous accoutrements. However, it does include support for EuroDocsis, and the $79,000 price is "about 58% less" than Cisco's list price, the buyer claims. Hurry, folks, they're goin' fast!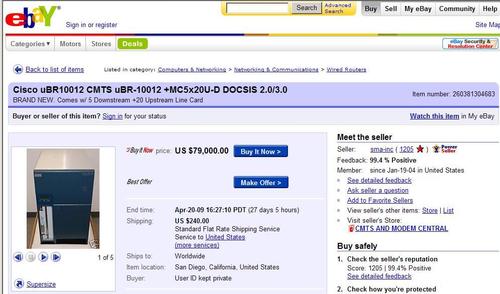 On the modem front, there's a Motorola SURFboard Docsis 3.0 modem available for just $89.15. Another item sells for $189.95. But get this, folks: The more expensive of the two comes with
free shipping
!
What's that? No problem. I'll wait here while you place your bid...
OK, OK, enough with the cuteness. The
real reason
I even took a gander was because
DSL Reports
noted yesterday
that Fry's recently started selling a Motorola wideband modem for $99, after a $20 rebate, marking the first time a Docsis 3.0 modem has hit retail shelves.
The Motorola blog
confirmed as much
today, also sharing an image of the retail flyer.
Of course, very few Docsis modems are sold at retail compared to the number of units that are leased by cable MSOs, but if you want to own a wideband modem of your very own and sidestep that monthly lease fee in the process, here's your chance.
And it will do you the most good if you actually live in a cable system that's launched Docsis 3.0 services.
Comcast Corp.
(Nasdaq: CMCSA, CMCSK) already has services wired up in about 30 percent of its footprint, but
reportedly
there a few more markets in the near-term hopper as the MSO gets closer to its goal of having 65 percent of its network wideband-enabled by year's end. (See
Comcast Sets Wideband Goal
.)
— Jeff Baumgartner, Site Editor,
Cable Digital News