The first iteration of hardware specs for Docsis 3.1 could emerge as soon as next March or April to help cable modem and cable modem termination system (CMTS) vendors get a jump on product development for the new, speedier CableLabs platform, multiple industry sources tell Light Reading Cable. (See Diving Into Docsis 3.1.)

Some vendors, particularly among those that make CMTS gear, believe they will gain some flexibility as the specs evolve by supporting some Docsis 3.1 functions (such as the upstream burst receiver) using Field Programmable Gate Array (FPGA)s before committing to them with Application-Specific Integrated Circuit (ASIC)s. "But we will need to see the final specs" before going full-bore with product development, says one Docsis vendor.

Following the hardware specs, other specs tied to Docsis 3.1, including the new OSS components, would follow later in 2013, two sources say.

According to the information presented by CableLabs at this month's Society of Cable Telecommunications Engineers (SCTE) Cable-Tec Expo in Orlando, the plan is to have the Docsis 3.1 specs "substantially complete in 2013," setting the stage for the first wave of Docsis 3.1 products to appear sometime in 2014.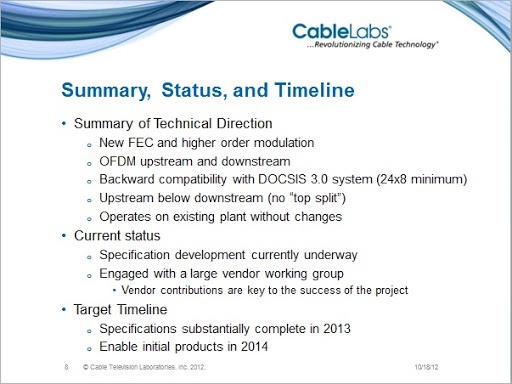 For now, CableLabs is not being more specific than that. "There will of course be internal milestones in between now and then, and vendors can of course begin developing whenever they feel the specs are solid enough to do so, but I don't believe we would want to comment on those internal milestones," CableLabs Director of Docsis Specifications Matt Schmitt said via email.

Mark Palazzo, VP and GM of Cisco Systems Inc. (Nasdaq: CSCO)'s Cable Access Business Unit, meanwhile, has already outlined in a blog post the sort of timeline that his company is expecting: "By early 2013, completion of the PHY and MAC specs; silicon availability in 2014, and cable modem/CMTS availability in 2015." (See Gearing Up for Docsis 3.1.)

Docsis 3.1 CPE expected first
It's expected that the first products to come out of the new CableLabs initiative will be hybrid Docsis 3.0/3.1 consumer premises equipment (CPE) that will enable operators to seed the market before they begin to turn on 3.1 spectrum. Rather than tapping the 6MHz- and 8MHz-wide channels used today for North American Docsis and EuroDocsis, Docsis 3.1 spectrum will rely on blocks of much smaller orthogonal frequency division multiplexing (OFDM) subcarriers alongside the introduction of a more efficient Forward Error Correction (FEC) scheme called low-density parity-check (LDPC).

Efficiency gains from those elements and the move to higher modes of modulation will help to put cable on a path toward capacities of at least 10Gbit/s downstream and 1Gbit/s upstream. Today's 256QAM technology produces eight bits per symbol, while the targeted 4096QAM modulation will push that to 12 bits per symbol, representing a 50 percent increase in spectral efficiency. (See Docsis 3.1 Targets 10-Gig Downstream.)

— Jeff Baumgartner, Site Editor, Light Reading Cable