Rumors that Comcast Corp. (Nasdaq: CMCSA, CMCSK) was prepping a 105-Mbit/s Docsis 3.0-powered residential tier started to percolate in May at The Cable Show in Los Angeles.

Since then, the MSO has been happy to acknowledge that it would "soon" start to offer a new 100-Mbit/s-plus tier alongside its new "Xfinity" brand and the upgrades that go along with it, but has stayed mum with respect to specific speeds and pricing.

Based on emails sent to some customers in markets where the Xfinity brand has been introduced, including Denver, the MSO is starting to spell out that it will indeed offer a residential wideband tier that caps the downstream at 105-Mbit/s. Comcast, which has more than 80 percent of its plant upgraded for D3, already offers a 50-meg D3 residential service.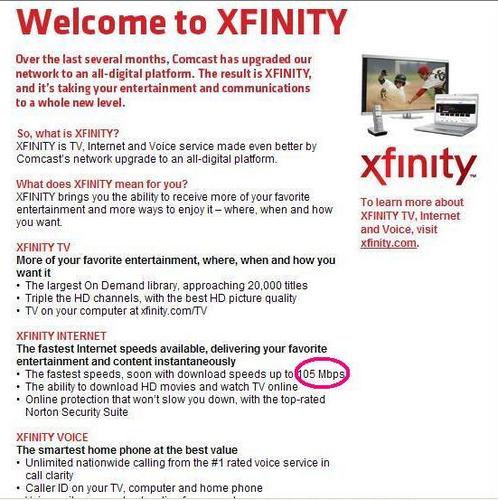 This email (sent to some subs in the Mile High City on July 22) follows the show rumors and a report in May that the operator was cooking up an "Extreme 105" tier that would come with a 10-Mbit/s upstream and be priced for $199.95 per month (plus a $250 installation fee), and run off the Arris Group Inc. (Nasdaq: ARRS) WBM760 D3 modem. At the time, there were indications that Comcast might launch the tier as early as June. (See Comcast Getting Amped Up? )

Even with customer emails circulating, Comcast's still not revealing much more. "We haven't made a specific announcement at this time," spokesman Charlie Douglas says via email. "The advertising and marketing we've done around Xfinity has always said we would be offering a 100+ Mbps service in the near future."

Comcast's next chance to reveal any new residential D3 details comes tomorrow morning when it reports second-quarter numbers.

Based on where Comcast has introduced the Xfinity brand so far, some other market candidates for the 105-meg residential tier are Boston, Philadelphia, Chicago, Denver, and San Francisco/Bay Area, among others. (See US MSOs Get Rolling With 100-Meg Wideband .)

If Comcast indeed rolls out a 105-meg service, it won't be elevated to the top of the US cable downstream speed totem pole. That honor would remain with Suddenlink Communications and its 107-Meg tier. (See Suddenlink Widens 107-Meg Reach .)

Comcast, by the way, hasn't deployed D3 upstream channel bonding, but it's liked what it's seen so far from the initial lab and field trials. (See Comcast: Upstream Bonding Tests Yield 'Sustained' 75 Mbit/s .)

— Jeff Baumgartner, Site Editor, Light Reading Cable