Comcast Lights Up Broadband Bit-Counter

Comment (0)
Comcast Corp.
(Nasdaq: CMCSA, CMCSK) has begun to field test an Internet usage meter, giving some customers a better handle on how close (or far) they are from hitting the monthly 250-gigabyte consumption ceiling the MSO activated more than a year ago. (See
Comcast Draws the Line at 250GB
.)
The pilot, underway in Portland, Ore., uses a Web-based application Comcast developed. It's part of Customer Central, a customer administration console that also lets them manage email addresses and pay their bills online.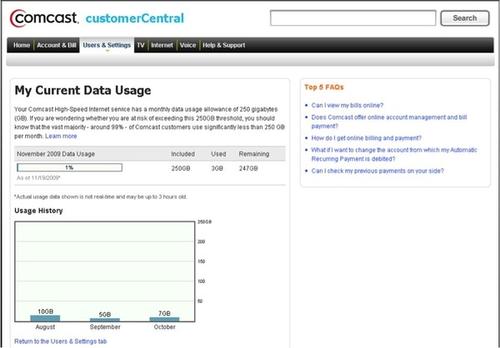 The trial involves "hundreds of thousands of customers," spokesman Charlie Douglas says. But Comcast wouldn't say how many of its 15.6 million high-speed customers are in the Portland area.
Comcast's goal would be to launch the meter nationally, if the pilot goes well, but it hasn't said when that might happen.
The meter counts all bits that flow through a customer's cable modem -- upstream traffic, downstream traffic, overhead packets, and, in some circumstances, retransmitted packets. Any packets tied to Comcast's facilities-based VoIP service aren't calculated into the monthly tally.
The meter will count data sent to and from devices hanging off the home network, such as broadband-connected gaming consoles and
Apple Inc.
(Nasdaq: AAPL) iTouch units. Comcast also won't discriminate in favor of its own Web TV products, including the
Fancast
video portal and On Demand Online, a "TV Everywhere" streaming service that's in trials and slated for an across-the-board launch by mid-December. Any video streamed or downloaded from those services do count toward the total. (See
Comcast Web TV Trial: 10,000 Being Served
.)
Watching the watchmen
Although Comcast has talked about launching broadband meter usage for more than a year, some have questioned whether the MSO should be trusted to count the bits, concerned that Comcast could somehow inflate those numbers artificially.
Comcast is trying to put those fears to rest by hiring engineering company
NetForecast Inc.
, based in Charlottesville, Va., to confirm the accuracy of the MSO's data usage meter.
In a
report (PDF)
published today of a seven-month test conducted in Comcast's Portland market, NetForecast validated the meter was accurate within 0.5 percent -- better than Comcast's goal of 1 percent. (All customers in question are served by the
Cisco Systems Inc.
(Nasdaq: CSCO) uBR10012 cable modem termination system.)
NetForecast says it played no role in the design or implementation of Comcast's meter.
Comcast says the meter is designed to update byte totals every three hours, and will round down usage to the nearest gigabyte. As currently configured, the meter will also provide three months of historical data usage.
Comcast is not notifying customers that are getting close to the 250 gigabyte threshold. But it's likely that most won't need to keep an eye on the meter. Comcast still contends that the vast majority of its Internet customers -- almost 99 percent -- don't hit the cap in any given month. Median data usage is 2 gigabytes to 4 gigabytes per month, the MSO claims.
"We think [customers] will be surprised to learn how little they actually use," Douglas said.
Comcast calculates that 250 gigabytes equates to 125 standard-definition movies (at 2 gigabytes per title), or more than 40 HD movies (at 6 gigabytes per movie).
— Jeff Baumgartner, Site Editor,
Cable Digital News