Broadcom Breaks Docsis 3.0 Barrier
Wave 65 of
CableLabs
's Docsis 3.0 certification was kind to
Broadcom Corp.
(Nasdaq: BRCM), which finally got on the scoreboard against rival
Texas Instruments Inc.
(NYSE: TXN).
CableLabs snuck the certification results onto its Website on April 10 -- the Friday before Easter.
Within Wave 65,
Cisco Systems Inc.
(Nasdaq: CSCO),
Thomson S.A.
(NYSE: TMS; Euronext Paris: 18453), and
Ubee Interactive
(formerly Ambit Broadband) represent the first certifications for products using Broadcom's BCM3380, a modem chipset that can bond eight downstream channels and produce speeds of 320 Mbit/s. (See
Broadcom Bonds Eight With Docsis 3.0
,
Broadcom: Sub-$50 Docsis 3.0 Modem in Sight
, and
Ambit Renamed Ubee Interactive
.)
That chipset got announced in January, but that was well behind TI, which announced its Docsis 3.0-certified chipset last May. (See
Modems, CMTSs Break Docsis 3.0 Barrier
.)
Before January, Broadcom had been relying on chips that could bond three downstream cable channels and couldn't bond upstream channels. (See
Betting on Broadcom
and
Broadcom Shrugs Off Docsis 3.0
.) These didn't count as Docsis 3.0, because the CableLabs specifications call for modems to bond at least four upstream and downstream channels.
That gave an opening to TI, which had a 4x4 chipset called Puma 5. (See
TI Ships 1M Docsis 3.0 Chips
.)
Broadcom isn't in the clear yet: TI has already announced its own 8x4 chipset, the TNETC4840, which could find a home inside a new breed of hybrid set-tops/gateways capable of supporting both QAM- and IP-based video services. (See
TI Flexes Docsis 3.0 Muscle
.)
Broadcom wouldn't comment on Wave 65. But Thomson was the first company to publicly acknowledge using the BCM3380, in the DCM475 standalone modem and DGH575 embedded multimedia terminal adapter (EMTA) -- and those products were part of the certification wave.
Likewise, Ubee says its recently certified products -- the DDM3500 modem and DVM3200 EMTA -- use Broadcom's 8x4 chipset.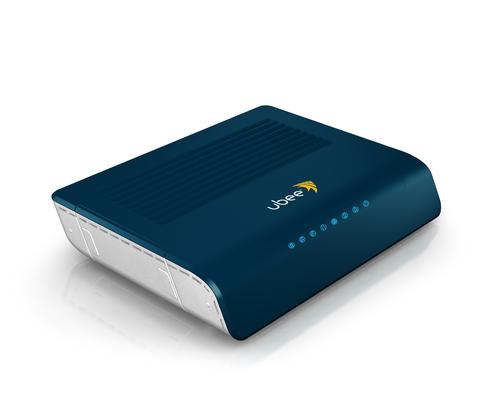 Cisco got certification for its DPC3010 wideband modem, and confirmed Monday afternoon that the model uses Broadcom's latest chips.
(Cisco hasn't formally announced the DPC3010, but its Website says the tech giant will
stop selling a Linksys-branded eight-channel cable modem
as of July 22, and encourages customers to "migrate to the Cisco DPC3010" modem.)
During Wave 65, CableLabs also re-certified Docsis 3.0 modem models from Cisco,
Netgear Inc.
(Nasdaq: NTGR), Ubee, and
SMC Networks Inc.
that are all based on TI silicon. By
Cable Digital News
's count, CableLabs has certified 19 modems and EMTAs for Docsis 3.0 and granted Docsis 3.0 qualification to five CMTSs.
Table 1: Docsis 3.0-Certified Modems and E-MTAs
Vendor
Product
Silicon partner
Cert wave approved
Arris
Touchstone 702G Embedded Multimedia Terminal Adapter
TI
58, 59*, 63**
Arris
WBM750A
TI
59, 63**
Cisco
DPC3000
TI
58, 63**, 65***
Cisco
DPQ3202
TI
60, 63**
Cisco
DPC3010
Broadcom
65
Hitron
BRG-35503
TI
61, 63**
Motorola
SB6120
TI
58, 63**
Motorola
SBV6220
TI
58, 59*, 63**
Netgear
CMD31T
TI
60, 63**,65***
Netgear
CVD31XT
TI
64
Orient Telecom
ORT3100
TI
64
SerComm Corp.
FM301T
TI
63
SMC
SMCD3CM
TI
58, 63**,65***
SMC
SMCD3G-GIZ
TI
64
Thomson
DCM475
Broadcom
65
Thomson
DHG575
Broadcom
65
Ubee Interactive
U10C035
TI
58, 63**, 65***
Ubee Interactive
DDM3500
Broadcom
65
Ubee Interactive
DVM3200 (EMTA)
Broadcom
65
*Device re-certified for Docsis 3.0 and obtained initial PacketCable 1.5 certification in Wave 59.
**Device re-certified for Docsis 3.0 in Wave 63.
***Device re-certified for Docsis 3.0 in Wave 65.
Source: CableLabs, the companies, and Cable Digital News research.
Table 2: Docsis 3.0-qualified cable modem termination systems (CMTSs)
Vendor
Product
Wave qualified
Highest level of 3.0 qualification achieved*
Arris
C4 CMTS
56
Bronze
Casa Systems
C2200 CMTS**
58
Full
Casa Systems
C3200 CMTS
58
Full
Casa Systems
C10200
64
Full
Cisco
uBR10012
56
Bronze
Motorola
BSR64000
58
Bronze
* CableLabs presently uses a tiered CMTS qualification system, awarding "Bronze," "Silver," and "Full" designations based on the product's supported features.
** Casa's C2200 CMTS won Silver qualification in Wave 56.
Source: The companies, CableLabs, and Cable Digital News research.
— Jeff Baumgartner, Site Editor,
Cable Digital News
Like what we have to say? Click here to sign up to our daily newsletter
Cable Next-Gen Technologies & Strategies – Making cable faster, broader, deeper, better
If you want to know where the cable tech space is heading, we've got you covered. Join the biggest names in the industry in Denver, CO on March 14 & 15 for the latest edition of Light Reading's Cable Next-Gen Technologies & Strategies conference.
Back for a record 16th consecutive year, Cable Next-Gen is the premier independent conference covering the broadband technology market. This year's edition will tackle all the top tech topics, including 10G, DOCSIS 4.0, Distributed Access Architecture, next-gen PON, fixed wireless access, network virtualization, the Digital Divide and more
Get your free operator pass here.
PARTNER PERSPECTIVES
- content from our sponsors