Dabby made a splash last month at CES by using artificial intelligence to improve TV viewing. Its AI-powered platform aims to break down OTT app silos and unify the search and playback of a multitude of subscription and free, ad-supported streaming services.
While Dabby will mainly reach consumers via retail, the startup is looking to connect with cable operators and other service providers as a possible channel. It could be a viable partner for service providers that are focusing on broadband services and either want to de-emphasize or exit the pay-TV business.
"We've been talking to a lot of [US] service providers," particularly those in the small- and mid-tier range, SV Vasudevan, a consultant for DabKick (the company behind Dabby) said. Vasudevan is a video industry vet, having worked for companies such as TiVo, Cisco and BigBand Networks.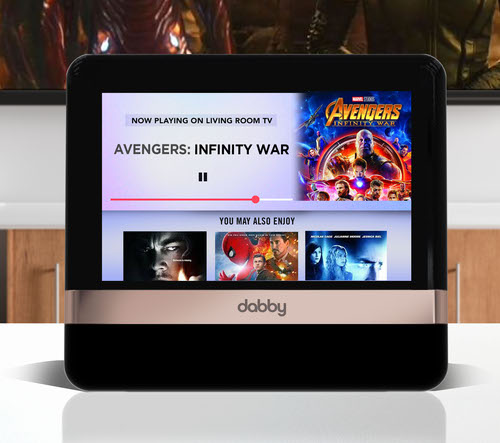 Those discussions are ramping up as cable operators – particularly Tier 2 and Tier 3 providers – explore a range of video options as they increasingly find their legacy pay-TV products either too expensive or troublesome to maintain. While some in that group are pivoting to app-based pay-TV services with partners such as MobiTV, a select few have already exited the business.
Dabby has yet to announced any formal partnerships with cable operators. Still, Vasudevan said the company expects to have at least one trial underway with a service provider in time for NAB 2020, which gets underway on April 19 in Las Vegas.
Dabby is exploring other business models with service providers. It might offer outright sales of the Dabby platform or incremental revenues derived from advanced, subscription-based features. Other possibilities include bundling options that, for example, would have the operator give away Dabby products to customers who subscribe to high-end broadband data tiers.
Those approaches could provide a way for operators to "stay in the video game … and provide some good defensive positioning" as more consumers cut the pay-TV cord, Vasudevan said.
That defensive positioning is happening at some major US cable operators. Comcast, for example, has been targeting its new Xfinity Flex streaming and smart home product at broadband-only subs.
'Google for TV'
A core idea behind Dabby is to solve a fragmented user experience that's been amplified by the availability and coming debuts of a multitude of free and subscription-based OTT video services. That group includes mainstays such as Netflix, Hulu and Amazon Prime as well as YouTube TV, Sling TV, Quibi, Apple TV+, Disney+, NBCU's Peacock and WarnerMedia's HBO Max. Dabby's view of the OTT world also extends to Facebook, TikTok, Instagram and other social media platforms that supply professional and user-generated video content.
And while all of those services are (or will be) accessible by various streaming platforms, such as Roku, Amazon Fire TV, Apple TV and Google's Android TV, they also tend to live in separate silos that make it a chore for consumers to search and navigate between them and locate the content they are seeking.
Dabby is trying to fix that problem and break down those silos with a product that doesn't rely on the fragmented world of platform-specific apps, but rather on browser-based and AI-assisted metadata, search and playback technologies. The company said most, if not all, streaming video providers deliver services over web browsers in addition to their custom-made apps. Dabby's tech sidesteps the need for the latter.
Dabby attempts to pull off this unification using an integrated, two-component system – the Dabby Touch, a portable console with a built-in voice navigation system, that connects wirelessly to a separate dongle that hooks into the TV's HDMI port. In this scenario, the Dabby Touch is the navigation system, and the dongle serves as the video playback device. Dabby ties both ends together with a Linux-based operating system.
The Dabby Touch also weaves in a subscription management portal that enables the user to authenticate the system to the various OTT services that he or she subscribes to, whether that's Netflix, Hulu or Disney+, or even a free streaming service like Tubi or Pluto TV. Meanwhile, Dabby's AI-assisted search engine can locate movies, TV titles or video clips that have been indexed, and play them back directly from the source URL using its browser-based technology.
Dabby's system also ranks those sources based on whether the content is available for free or for a fee and by the video quality.
"Think of it as Google for TV," Balaji Krishnan, CEO and founder of DabKick, said. "We want to change the game [for streaming video] like Google changed the game with web search."
Krishnan is not overly worried that Dabby will receive backlash from OTT services over concerns that Dabby's system could pull consumers away from their own user interfaces and apps developed for specific platforms like Fire TV and Roku. He argues that simplifying the experience and helping to connect consumers to the content they seek will drive up more engagement and usage of those individual OTT services.
Dabby's baseline consumer premises equipment (the portable console and TV-connected dongle) sells for $399, and $179 for additional TV-connected dongles. Those products are currently on preorder; DabKick expects shipments to begin by the end of March 2020.
An optional "VIP" subscription will fetch an additional $14.99 per month and supports some advanced features, including a social "watch together" feature that allows multiple Dabby users to synch up and view the same video stream; a way to auto-subscribe or unsubscribe to OTT services based on the user's viewing habits; and discounts on VoD titles and other items that can be sold via Dabby's platform. Dabby believes the subscription component makes particular sense for its potential cable operator partners.
And Dabby is pursuing a path that would enable its playback technology to be integrated in connected televisions. Foxconn has plans to integrate Dabby's operating system into TVs, according to Cnet.
Dabby could pose a threat to streaming platforms such as Roku, Fire TV, Apple TV (tvOS) and Android TV; it's not the first to develop a system that can seamlessly search across an expanding array of OTT services. Caavo, another startup, is taking a different angle with a control center/software system that can search and aggregate content from apps running on several separate video streaming devices, such as set-top boxes, gaming consoles, TiVo boxes and Roku players.
Related posts:

— Jeff Baumgartner, Senior Editor, Light Reading