Curbing Capex
9:00 AM --
Comcast Corp.
(Nasdaq: CMCSA, CMCSK) delivered a pleasant surprise to Wall Street by reporting sharply reduced capital expenditures in the second quarter of 2008 compared to the same period a year ago. MSO vendors, on the other hand, are not quite as giddy about the news. (See
Comcast Rings the Telcos' Bell
.)
Comcast's capex spending dropped 20 percent year-over year, from $1.6 billion in the second quarter of 2007 to $1.3 billion during the same quarter this year. Additionally, capex as a percentage of revenue decreased in the second quarter to 15.2 percent, versus 20.6 percent last year. Click the image below to see how all this looked in Comcast's quarterly earnings slideshow.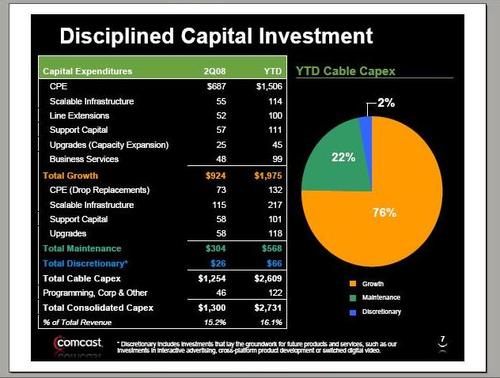 During the company's earning call, COO Steve Burke highlighted the squeeze on the Comcast's suppliers by noting that advanced set-top box costs have dropped by more than 25 percent over the past year, while cable modem termination system (CMTS) costs are 50 percent lower. Video-on-demand costs have fallen 40 percent per stream.
The only potential good news for vendors came from Comcast CFO Michael Angelakis, who reported that spending could pick up in future quarters.
"The bulk of our bandwidth and product-enhancing investments, such as all-digital and Docsis 3.0, will begin in the second half of the year. Clearly these investments are multi-year projects that will begin in the third and fourth quarter of this year and will likely extend into 2010," Angelakis said.
— Michael Harris, Chief Analyst,
Cable Digital News