4:15 PM -- Cable isn't as promising as fiber to the home, but it's only beginning to realize its full potential, according to the engineers at Cox Communications Inc.

The Coxmen, from whom I borrowed the following slide, say as soon as customer premises equipment starts to improve, cable customers could see a big change in the amount of Internet bandwidth available and the number of channels and services they could access.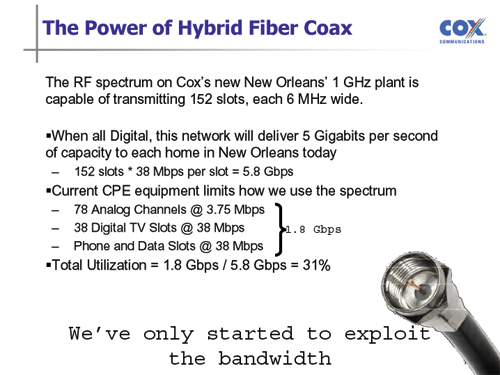 Of course, cable operators will need to do far more than just sending out shiny new set-tops to deliver on cable's above-stated potential. But the slide makes a point: The cable wire itself is going to be good enough for most people for most applications for a long time.

You don't get the same warm, fuzzy feeling with DSL, do ya?

— Phil Harvey, Hybrid Fiber Editor, Light Reading

Production Note: Thanks again to the chaps at Cable Digital News for blogsitting for me last week. Together, Alan and Michael raised The Philter's content to a level of respectability not yet seen since the blog's inception. It's going to take me weeks to undo the damage, but I think I'm up to the task.