The market for passive optical networks (PONs) will grow at quite a clip for the next three or four years -- and then it will really take off as PON deployment for mass residential markets begins to kick in.

That's the overall conclusion of a recent report from CIBC World Markets, which reckons the PON equipment market will total $1 billion in 2004, up from a mere $23 million last year.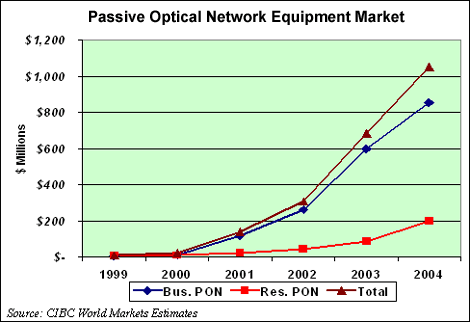 PON equipment enables carriers to economize on broadband access network costs. It provides a way for a single fiber access line to support a cluster of buildings rather than a single building -- thus sharing costs that would otherwise range from $350,000 to $700,000 per building, according to CIBC.

The line sharing is achieved by installing a passive splitter close to the cluster of buildings, so that light coming from the carrier's point of presence (POP) over a single fiber can be split into different wavelengths and steered to individual buildings via short lengths of fiber (see PONs: Passive Aggression).

CIBC reckons that lower-bandwidth, lower-cost, broadband access technologies such as wireless, cable, and xDSL (digital subscriber line) will predominate in the residential market for the next few years.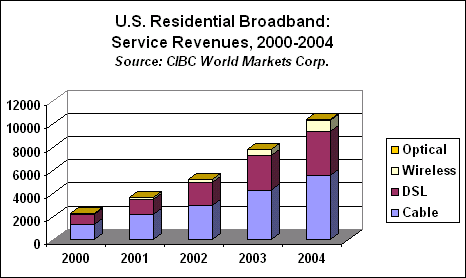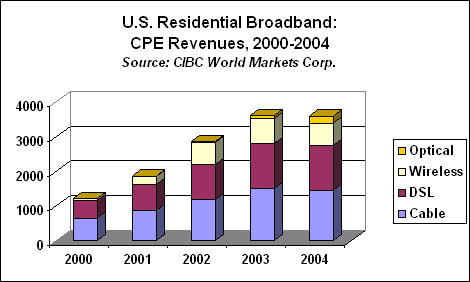 The tide will turn around 2004. "PON prices will come down, and residential PONs will pick up quickly," says CIBC access analyst Alan Bezoza, co-author of the report. At the same time, he notes, home users will be tapping out the limits of bandwidth for cable and xDSL, making PONs more attractive.

CIBC analysts say another factor in PON deployment -- RBOC (regional Bell operating companies) provisioning of PON services -- could help speed widespread deployment.

"We now have word that there's a lot more interest than we thought in PONs," says co-author James Jungjohann. He says there's momentum building, particularly among RBOCs such as SBC Communications Inc. (NYSE: SBC). "There's some very aggressive support for PONs going on. I think a lot of folk will be surprised."

-- Mary Jander, senior editor, Light Reading http://www.lightreading.com