CableCARD Alternative Gains Ground
Cablevision Systems Corp.
(NYSE: CVC) is the most prominent U.S. MSO to deploy downloadable security in a big way, but it's not the only cable operator that's pursuing a more elegant alternative to the clunky
CableCARD
. (See
Cablevision May Take Security for a Spin(off)
.)
A handful of smaller, Tier 2 operators have also installed a downloadable encryption system that adheres to the
Federal Communications Commission (FCC)
's 2007 ban on set-tops with integrated security. The big difference is that they are using a platform from
Beyond Broadband Technology LLC (BBT)
, a consortium backed by two small cable operators that is trying to usher in an era of low-cost set-top boxes and headends primarily targeted to Tier 2/3 MSOs.
BBT's system, which shifts MSOs away from digital platforms from
Cisco Systems Inc.
(Nasdaq: CSCO) and
Motorola Inc.
(NYSE: MOT) and the CableCARD, is also seven years in the making. BBT President and CEO Bill Bauer says seven operators are deploying the platform in eight markets. Of that, here are those he is allowed to ID: Atwood Cable (Atwood, Kan.); Bayou Cable (Marion and Sterlington, La.); Family View Cable (Seneca, S.C.); Hickory Telecom Corp. (Hickory, Pa.); Republic Cable (Republic, Wash.); and Viking Cable (Huntley, Mont.).
"We are in active sales now," he says, adding that BBT expects to deploy one to two systems per week.
In this initial deployment phase, BBT is relying on set-tops and a conditional access platform from
InterTECH Corp.
, Bauer's Gehring, Neb.-based ISP that handles support and provisioning for some small cable operators. And you can see the BBT system in action if you happen to pop by
CableLabs
. The Louisville, Colo.-based R&D house has one installed for demos and interoperability events. (See
BBT Buys Drake's Box Biz
.)
The initial set-top box for the system is a hybrid QAM/IP HD box that can decode MPEG-2 and MPEG-4 signals. Bauer says BBT has signed on two other set-top suppliers, but wouldn't name them. BBT is sourcing content from
Avail-TVN
, whose AnyView product will help BBT's partners distribute content to PCs, tablets, smartphones and other connected devices using an adaptive bit rate scheme. (See
Avail-TVN Brings TV Everywhere to Tier 2s
.)
InterTECH doesn't intend to be a set-top manufacturer forever. "I'm doing it now because I have to do it," Bauer says.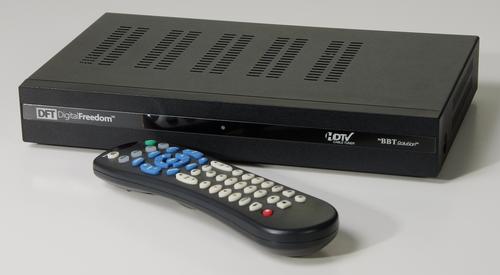 And BBT now finds itself with a new headend partner.
R.L. Drake LLC
was handling that component, but it's now in the hands of
Blonder Tongue Laboratories Inc.
(See
M&A Train Reaches Tier 2 Cable Vendors
.)
Competition heating up for Tier 2s
BBT is entering deployments as Tier 2/3 MSOs prepare to go all-digital and migrate to more advanced video platforms that can better match up with telco TV competitors, as well as
Dish Network LLC
(Nasdaq: DISH) and
DirecTV Group Inc.
(NYSE: DTV).
And BBT will face plenty of competition from vendors that also are trying to catch this wave.
Among them,
Evolution Digital LLC
is using a mix of
Digital Terminal Adapter (DTA)
devices, hybrid IP/QAM gateways and integrated
TiVo Inc.
(Nasdaq: TIVO) boxes. It claims to have more than 2 million devices deployed among 50-plus customers in multiple countries. (See
Evolution Hawks Whole-Home TiVo DVR
.)
EchoStar Corp. LLC
(Nasdaq: SATS), Charlie Ergen's set-top and technology spin-off, is catering to independent operators using a mix of set-tops, including Sling-Loaded models, a cloud-based UI and a menu of over-the-top VoD fare. EchoStar hopes to have more than 1 million cable subs on board its Aria platform by the end of 2013. (See
EchoStar's Cable Target: 1 Million Subs
.)
Adara Technologies Inc.
, meanwhile, is starting to make progress with a hosted switched digital video (SDV) platform tailored for smaller operators that leans heavily on set-tops, middleware and a user interface from Cisco. (See
Cisco Partner Tries to Break Moto's Grip on Tier 2s
and
Cass Cable Taps Adara for SDV
.)
— Jeff Baumgartner, Site Editor,
Light Reading Cable
EDUCATIONAL RESOURCES

PARTNER PERSPECTIVES
- content from our sponsors