WiFi Is Better Than Chocolate?

5/14/2014

Comment (47)

If you're a small business owner, you're better off skipping the mints and offering free WiFi instead.
According to a new Comcast Business survey of entrepreneurs and small business IT decision makers, WiFi is a much better tool than free candy, water, community bulletin boards, or magazines when it comes to keeping customers happy. More than 85% of respondents agreed that WiFi trumps all these other perks. (See Comcast Whips Up More WiFi.)
That said, not every business is jumping on the WiFi train. Some -- predominantly those that have been in business 20 years or more -- told Comcast Business that they had concerns over tech support, employee distraction, and costs associated with managing a WiFi network.
For the rest of the pro-WiFi folks, check out the infographic below about the perks of WiFi for small business owners. (Or click here to see a larger version of the image.)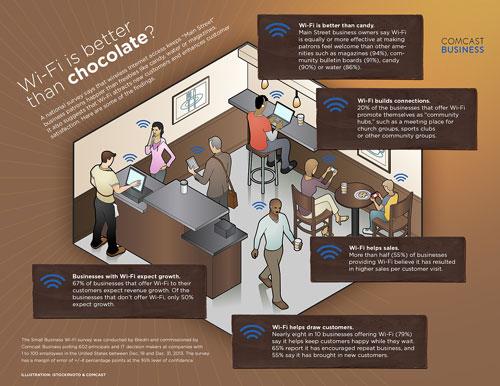 (47) |