Zoom Grooms D3 Modem for Retail
Zoom Telephonics
has broken through the
Docsis 3.0
barrier with a newly
CableLabs
-certified modem that the company intends to sell at retail and directly to MSOs.
Zoom
, the only vendor (so far) to come through Certification Wave 73 with a passing grade, got the stamp for its "5341" model, a standalone wideband cable modem. Powered by
Texas Instruments Inc.
(NYSE: TXN) silicon, Zoom's first Docsis 3.0 modem can bond four downstream and four upstream channels -- the baseline configuration required by Docsis 3.0 specs. Some recently certified modem models based on TI and
Broadcom Corp.
(Nasdaq: BRCM) silicon can bond up to eight 6MHz-wide channels, enough to pump out bursts of 320 Mbit/s. (See
Broadcom Breaks Docsis 3.0 Barrier
and
TI's Wideband Breakthrough
.)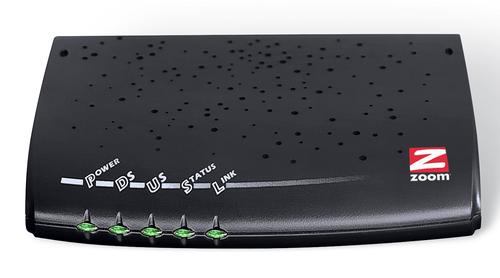 Zoom hopes to sell the model to MSOs directly, but it also expects to hawk it at retail now that it has the CableLabs OK to do so. Zoom spokesman Terry Manning notes that the company already sells Docsis 2.0 modems at
Best Buy
,
Staples
,
Fry's Electronics
, and
Micro Center
stores. The new Docsis 3.0 modem is expected to start shipping by the end of April, he says.
Zoom is also the latest vendor to sell Docsis 3.0 modems at retail to customers who'd rather buy the gear on their own and sidestep MSO lease fees.
Motorola Inc.
(NYSE: MOT), the first to do so, started selling wideband modems at Fry's almost a year ago. At
last check
, Fry's is selling Moto's SB6120 SURFboard Docsis 3.0 modem for $99.97.
DSL Reports
notes
that
Amazon.com Inc.
(Nasdaq: AMZN) is
selling it for $85.90
. MSOs such as
Liberty Global Inc.
(Nasdaq: LBTY), meanwhile, can buy standalone Docsis 3.0 modems in bulk for about $50 per unit these days. (See
For Sale: Wideband Gear
and
Liberty Exec Details D3's 'Sweet' Economics
.)
Zoom hasn't disclosed a retail price for its wideband product, but Manning believes it will be in the sub-$100 range.
Boston-based Zoom also makes VoIP gateways, DSL and dialup modems, and Bluetooth gear under the Zoom, Hayes, and Global Village brands.
With Zoom breaking through, here's an updated list of CableLabs-certified/qualified Docsis 3.0 modems and cable modem termination systems (CMTSs):
Table 1: Docsis 3.0-Certified Modems, E-MTAs & Gateways
Vendor
Product
Silicon partner
Cert wave approved
Arris
Touchstone 702G (E-MTA)
TI
58, 59*, 63**, 67****
Arris
WBM750A
TI
59, 63**, 67****
CastleNet
CBC381
Broadcom
71
Cisco
DPC3000
TI
58, 63**, 65***
Cisco
DPQ3202
TI
60, 63**
Cisco
DPC3010
Broadcom
65
Cisco
DPQ3212
N/A
70
D-Link
DCM-301
N/A
70
Hitron
BRG-35503
TI
61, 63**
Juniper
ECM3100-JU
N/A
70
Motorola
SB6120
TI
58, 63**, 67****
Motorola
SBV6220
TI
58, 59*, 63**
Motorola
SBV6120
TI
68
Motorola
SB6180
Broadcom
70
Motorola
SBG6580
N/A
71
Netgear
CMD31T
TI
60, 63**, 65***
Netgear
CVD31XT
TI
64
Netgear
CG3000
Broadcom
70
Netgear
CG3200D
N/A
71
Netgear
CMD31B
Broadcom
71
Netgear
CVD31XB
Broadcom
72
Orient Telecom
ORT3100
TI
64
SerComm
FM301T
TI
63
SMC
SMCD3CM
TI
58, 63**, 65***
SMC
SMCD3G-BIZ
TI
64, 67****
SMC
SMCD3USG (E-MTA)
N/A
71
SMC
SMCD3GN2 (gateway)
TI
72
Thomson/Technicolor
DCM475
Broadcom
65
Thomson/Technicolor
DHG575
Broadcom
65
Thomson/Technicolor
DCW775
Broadcom
70
Thomson/Technicolor
DWG875
Broadcom
72
Ubee Interactive
U10C035
TI
58, 63**, 65***
Ubee Interactive
DDW3600
TI
67
Ubee Interactive
DDM3500
Broadcom
65
Ubee Interactive
DVM3200 (E-MTA)
Broadcom
65
Ubee Interactive
DDW3610
Broadcom
70
Ubee Interactive
DVW3200 (E-MTA)
Broadcom
71
Zoom Telephonics
5341
TI
73
* Device re-certified for Docsis 3.0 and obtained initial PacketCable 1.5 certification in Wave 59
** Device re-certified for Docsis 3.0 in Wave 63
*** Device re-certified for Docsis 3.0 in Wave 65
**** Device re-certified for Docsis 3.0 in Wave 67
Source: CableLabs, the companies, and Light Reading Cable research
Table 2: Docsis 3.0-Qualified CMTSs
Vendor
Product
Wave qualified
Highest level of 3.0 qualification achieved*
Arris
C4 CMTS
56
Bronze
Casa Systems
C2200 CMTS**
58
Full
Casa Systems
C3200 CMTS
58
Full
Casa Systems
C10200
64
Full
Cisco
uBR10012
56
Bronze
Motorola
BSR64000
58
Bronze
* CableLabs currently uses a tiered CMTS qualification system, awarding "Bronze," "Silver," and "Full" designations based on the product's supported features.
** Casa's C2200 CMTS won Silver qualification in Wave 56.
Source: The companies, CableLabs, and Light Reading Cable research
— Jeff Baumgartner, Site Editor,
Light Reading Cable
PARTNER PERSPECTIVES
- content from our sponsors