EchoStar Technologies LLC may have corporate ties to one of cable's fiercest competitors, Dish Network LLC (Nasdaq: DISH), but the recently spun-off tech division says it has some big product plans for the cable industry.

The first product it will hawk to cable operators, of course, is the SlingModem, a CableLabs -certified device that combines Sling Media Inc. 's traditional place-shifting video platform with a Docsis 2.0 cable modem. EchoStar plans to demonstrate the product for the first time at The Cable Show, which officially gets underway this Sunday (May 18). (See EchoStar Unit Unveils SlingModem and EchoStar to Demo SlingModem.) Last Fall, EchoStar put up $380 million to acquire closely held Sling Media. (See EchoStar to Buy Sling Media.)

But trying to get this new product into cable operators' hands presents EchoStar with a special set of challenges, to say the least.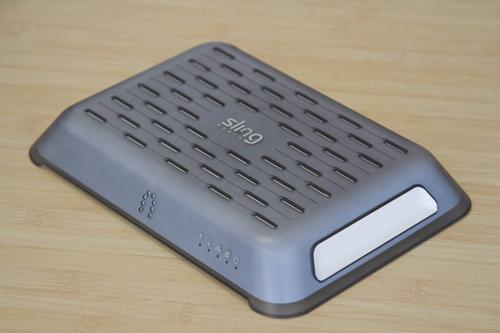 "Cable and Dish have butted heads a bit over time," acknowledges Michael Hawkey, EchoStar Technologies' VP of sales and marketing. However, he says cable operators, including some among the top five in the U.S., have been willing to at least open up a dialogue and allow EchoStar to discuss, not only products, but how it envisions being able to help MSOs cut down operational costs.

"The barricades have come down," Hawkey says.

As designed, the SlingModem will offer the same general experience/service as a stand-alone Slingbox, but the setup and provisioning process should be much simpler for consumers, according to Hawkey. On top of that, EchoStar believes operators can use the new device to gain and retain high-speed Internet subscribers.

EchoStar plans to offer SlingModems directly through MSOs, rather than via retail. There's no firm word yet on whether operators plan to sell the SlingModem outright or heavily subsidize it as part of a high-speed Internet service bundle, possibly targeted to an operator's faster and more expensive tiers.

"There's a variety of ways they want to take it to market," Hawkey says. "They've looked at all kinds of business models."

EchoStar does not have any orders from operators, at least nothing beyond several lab trials. "We're hoping to leave the [Cable] Show with firm commitments on when they want to roll it out," Harkey says. "It's a ready-to-roll product. This isn't a concept; it isn't a prototype."

But the Sling Modem is just one of several new products this "operator-agnostic" iteration of EchoStar has planned for the cable industry. It's merely "a leverage point to integration in the set-top box and products beyond," Hawkey insists.

Developing set-tops and other cable-centric devices with CableCARD slots and support for the tru2way platform "is an obvious step for us to go," he adds. (See Cable's 'tru2way' Play and Cable Set-Tops: Big Changes Ahead.)

— Jeff Baumgartner, Site Editor, Cable Digital News