Cisco Systems Inc. (Nasdaq: CSCO) ended 2011 as the king of the cable modem termination system (CMTS) market as port shipments hit record levels in the fourth quarter, according to fresh data from Infonetics Research Inc.

For 2011, combined CMTS and edge QAM revenues rose 6 percent to $1.7 billion, but the head-turner was that global CMTS port shipments jumped 48 percent in the fourth quarter.

That helped Cisco retain its lead and increase its share of the revenue pie to 59 percent, eight points better than 2010 and just a point shy of its all-time high. Arris Group Inc. (Nasdaq: ARRS) also benefited, as its CMTS revenue share rose from 21 percent to 28 percent. Much of that was at the expense of Motorola Mobility LLC , which saw its share dip to 14 percent from 19 percent after stringing together gains in the second and third quarter. Casa Systems Inc. trailed well behind the field, holding steady with about 1 percent, Infonetics Directing Analyst for Broadband Access and Video Jeff Heynen tells Light Reading Cable.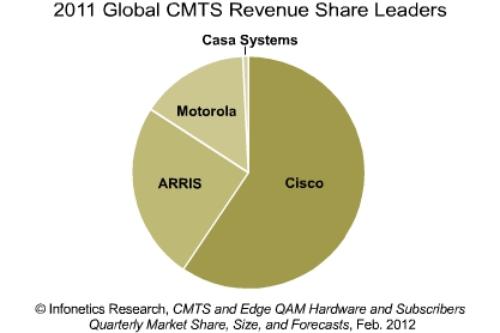 Port pricing takes a dip
But big CMTS port shipments in 2011 were coupled with a big decline in downstream port pricing as Cisco and Arris ramped up sales of new, denser CMTS blades that let MSOs turn up capacity as they need it. (See Arris Leaps Into CMTS Port Licensing and Cisco Pops Pay-As-You-Go CMTS Play.)

Heynen says this software-based, upgrade licensing approach improves product margins, but each license purchased subsequently generates less revenue per downstream. That means selling ports in high volumes is becoming even more critical for CMTS vendors.

Heynen estimates that the price per CMTS downstream dropped 31 percent in 2011 versus 2010, with the average at about $1,800 per port. He doesn't expect to see such a steep decline this year (perhaps something in a more typical range of 8 percent to 10 percent), but believes the average will drop to the $1,200 range in 2015 – about the time cable operators start to get more aggressive with deployments of Converged Cable Access Platform (CCAP), an even denser access platform that combines CMTS and edge QAM capacity and will help MSOs migrate to IP video.

"I don't think there's a bottom," Heynen says of the port pricing trend.

— Jeff Baumgartner, Site Editor, Light Reading Cable